Hardwood Product Information
Why Hallmark Hardwood Floors?… we are simply better.
Our hardwood floors are second to none! From our hardwood finishes, our true hand-distressed methods, our longer planks, our sawing methods, and our commitment to the environment, you will love our hardwood flooring products. Hallmark Floors has the quality and craftsmanship you want and deserve. We guarantee you will enjoy your hardwood floors for generations to come.
HALLMARK FLOORS HARDWOOD FLOORING TEAR SHEETS
To download click on the links below.
Board Variation
Wood is a natural product and will vary in color and grain appearance from board to board. This is a natural aspect of the wood. Texture, including graining, knots, natural imperfections and character will vary significantly from board to board. V1, V2, V3 & V4 are levels of this variation. V1 shade variation is uniform in appearance from plank to plank, whereas a V4 classification will have a large variety of color and texture changes.
Prior to any installation, a range of planks should be approved by the customer. No claims for shade or texture variation will be honored after installation.
Please note that shades of color are seen differently on computer screens. Customers should request a sample before making a final decision on their floors.
To View Hallmark Floors Board Variation outline, Please click here.
MSDS Data Information for Truecore Centerply

Hardwood Floor Molding (Trim)

Hardwood floor molding and trim information for Hallmark Hardwoods floors. If you have questions or would like to order our molding, email us or call.
Trim Options: Stair Nosing / T-Molding / Threshold / Reducer / Quarter Round:
Hallmark Floors manufactured trim Lengths are 82″
*All Hallmark Floors' moldings are engineered with the exception of Quarter Round.
Click to enlarge the image.
[portfolio_slideshow id=168]
Hallmark Floors Hardwood Flooring Catalog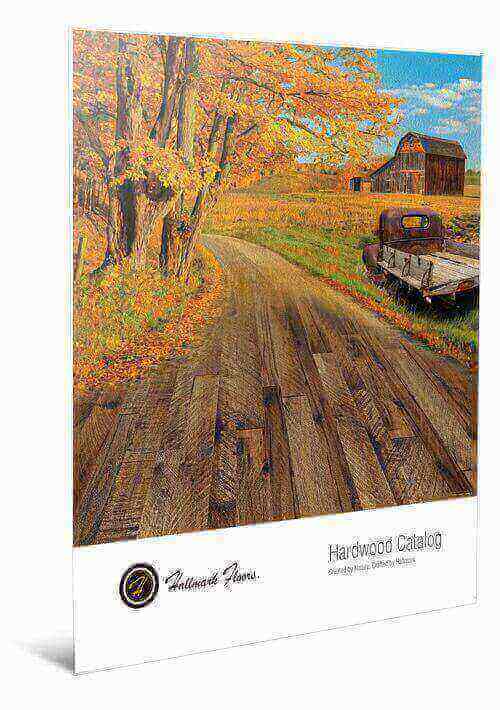 Hallmark Floors has 9 Engineered Hardwood Flooring Collections, and a Solid Collection. Providing options for any and all home, office or commercial renovations.
Click here to download the Hardwood Flooring Brochure
Hallmark Floors is a flooring manufacturer. We produce a variety of different flooring products from wood floors to luxury vinyl floors. Hallmark has ten hardwood collections to choose from. Each collection meets a different need, depending on desired look, durability, and budget. All of the hardwood floors are modern to contemporary, supplying the options that today's market demands. Innovative and beautiful, Hallmark Floors' hardwood collections offers you everything you will need in wood flooring. Discover the right floor for you with Hallmark Floors.
If you have questions, give us a call or Email Us. We will get back to you right away. To locate a retailer near you, please visit our locate a dealer page.
Thank you for your interest in our floors. Please keep us posted and let us know what floors you decided on. Oh, and share photos with us. We will send you a gift card for doing so. Also, don't forget to register your floors with us too and get a FREE bottle of cleaner.
Best regards, Hallmark Floors.
Created by Nature… Crafted by Hallmark
Simply Beautiful
Simply Better
Simply Hallmark