True Collection
Engineered Hardwood Flooring
THE TRUE DIFFERENCE
The True collection is truly amazing with stunning colors and features. Hallmark Floors is the first to master this revolutionary technology of replicating "the bog-wood process" that occurs when logs lie buried in lakes, river, and waterways for hundreds of years, deprived of oxygen and sunlight. This process in nature can take centuries for the wood to turn from its natural color to deep golden brown or even completely black. Hallmark has emulated nature's methods to create saturated colors throughout the top layer, creating stunning, weathered patinas.
True bog-wood, driftwood, and weathered barn wood are all very rare. These cherished wood treasures are in high demand worldwide for use in furniture and flooring. Now Hallmark has made these prized finishes available to everyone through our True hardwood flooring collection.
BENEFITS FOR THE TRUE HARDWOOD FLOORING COLLECTION
• Protective low sheen – a truly natural wood floor
• Guaranteed quality & durability – long lasting finish
• 100% Renewable with Hallmark's Restoration Oil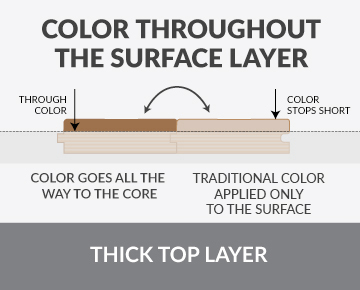 TRUE COLOR SURFACE LAYER
• Ultra thick wear layer provides lasting durability
• 100% natural color
• Color goes all the way through wear layer
• Easier to repair or touch up if an accident occurs
• Grade A commercial wood flooring
• Multi-generation wear layer – Guaranteed multiple sandings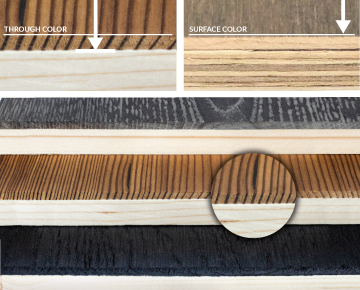 ENGINEERED WOOD STRUCTURE
• Greater dimensional stability than solid hardwood
• Healthy indoor air quality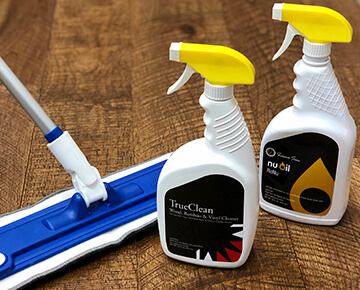 INSTALLATION
Review our Installation Guide for True hardwood flooring before starting the installation.
NOTE: True is a full spread glue down or nail with glue assist only
WOOD CHARACTERISTICS
True hardwood flooring is a natural product and it will vary from texture, graining, knots, imperfections, color, and character. Since this is a natural aspect of wood and of our mineral enhanced process, it will create significant board variation and color change from plank to plank. Learn more here.
FEATURES & BENEFITS
True Collection by Hallmark Floors