Hallmark vinyl flooring is exceptional.
Hallmark vinyl flooring is exceptional. The realistic wood-like flooring is perfect for both residential and commercial use. Truly a superior product with a wide range of styles. Crafted with the same care and commitment to detail as Hallmark's hardwood flooring, but in luxury vinyl. Photos don't do our vinyl floors justice. It is a must see for yourself product, so find a dealer near you, click here.
PROACTIVE + HEALTHY
Surface Guardian Finish
Pet & Family Friendly Floors
DURABILITY + STABILITY
PurCore CenterCore
Zero Harmful Chemicals
100% Waterproof
CERTIFIED + PROVEN
Floorscore Third Party Verified
Formaldehyde Free
Neutral VOC
Hallmark Vinyl Flooring is commercially rated with superior engineered construction, high definition printing, beautiful wood visuals, wider longer planks and tiles, and 100% water proof. We have the right vinyl floor for any life style or fashion.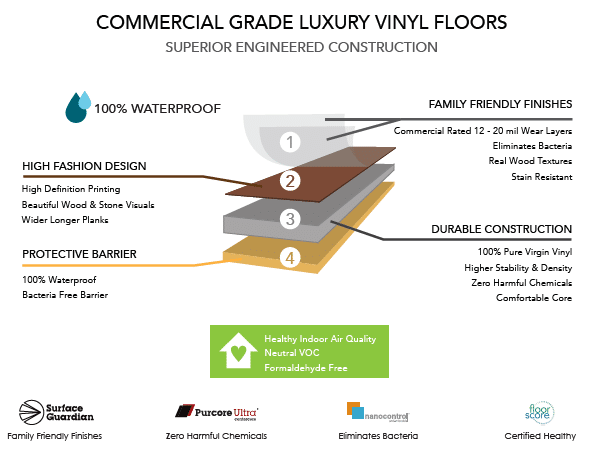 Product Thumbnail Photo Portfolio
Click here to sort by color, species, textures and more.

ATTENTION!: Luxury vinyl flooring subjected to excessive heat and light exposure is subject to expansion and contraction (thermal degradation). Use appropriate precautions to minimize potential affects on your luxury vinyl floor.
Save
Save
Save
Save
Save
Save
Save
Save
Save