Silverado Hardwood Collection
Simply traditional
Birch can be transformed into a wide array of colors, which is why it was the perfect choice for the Silverado Hardwood Collection. Each wide (6") plank is medium sculpted 100% by hand, with Hallmarks' 2.5mm rotary-cut style, crafted with a pillowed edge in order to provide a timeless, old-world look. The satin Truemark® finish provides durability to this traditional flooring collection.
The warm, rich stains & tight graining visuals add eye-catching distinction to the already unique planks.
BENEFITS
Finish:
TrueMark® – 9 Coats of hardwearing Aluminum Oxide
100% Renewable w/ Warranty intact
VOC Free Maintenance products
Lifetime Finish Warranty
Structure:
MG2 – 2 Guaranteed sanding's
Highest possible stability
Guaranteed Third Party Certification
Truecore® (Engineered) – Uses FSC® certified material
Highest Green Certification
Lifetime Structural Guarantee
Clean Air:
CARB II – Surpasses standard by over 50%
Board Variation Rating
V2: SLIGHT BOARD VARIATION*
* DRIFTWOOD BIRCH & TOBACCO BIRCH – V3: MODERATE BOARD VARIATION
Find a Dealer:
Installation photos from people who love our floors
Click here to see installation photos sent in by Home Owners, Designers & Builders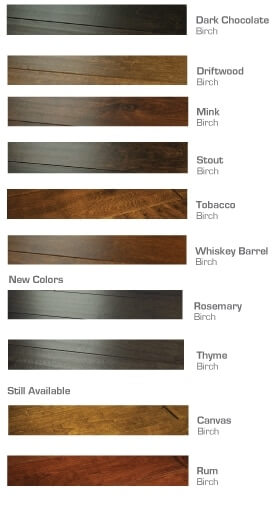 WOOD CATALOG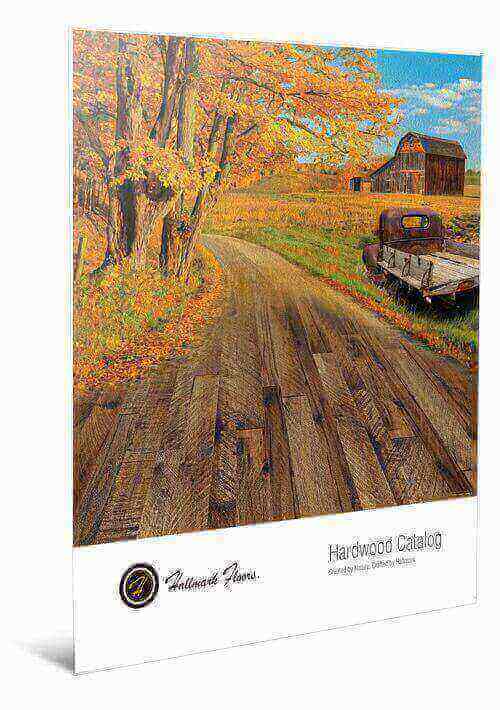 FEATURES
* Dark fill in natural splits and knots.
| | |
| --- | --- |
| Collection: | Silverado Hardwood flooring |
| Width: | 6" |
| Thickness: | ½" thick with 2.5mm rotary peeled face |
| Length: | Random up to 6' (72") |
| Edge Detail: | Pillowed |
| Surface Texture: | Medium sculpted 100% by hand with detailed coloring. |
| Coatings: | TrueMark Poly Finish |
| Package: | 23.6 sqft / carton; 54 cartons / pallet |
| Weight: | 43 lbs / carton |
| Warranty: | Limited Lifetime Structural & Residential Finish + 5 years Commercial Finish and 10 years Commercial Structural |
| FSC® Certificate: | Certificate – SCS-COC-004977 | License – FSC-C121559 |
| Trim Options: | Stair Nosing / T-Molding / Threshold / Reducer; Length 82″ |
| Installation Options: | Glue Down, Staple, Float, and Over Radiant Heat |
| Cleaning Methods: | Hallmark TrueClean floor cleaner |
Installation Instructions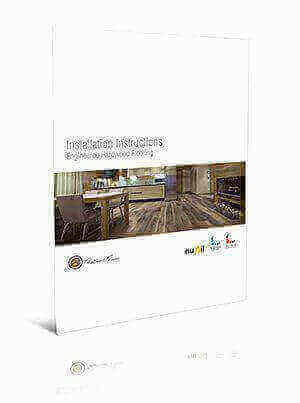 Siverado Hardwood Installation Instructions.pdf
Click here to download.
WHAT YOU NEED TO KNOW
5 steps you need to know before buying/installing your new Hallmark Floors:
1.
Choose the right retailer and installer.
Make sure they are in good standing with their community.
Read their reviews.
Get references.
Check out their craftsmanship by asking for installation photos of their prior projects.
2. Be on site when your new floors arrive.
Verify that they are the correct collection and color before they start the installation process.
Board Variation
Wood is a natural product and will vary in color and grain appearance from board to board. This is a natural aspect of the wood. Texture, including graining, knots, natural imperfections and character will vary significantly from board to board. V1, V2, V3 & V4 are levels of this variation. V1 shade variation is uniform in appearance from plank to plank, whereas a V4 classification will have a large variety of color and texture changes.
Prior to any installation, a range of planks should be approved by the customer. No claims for shade or texture variation will be honored after installation.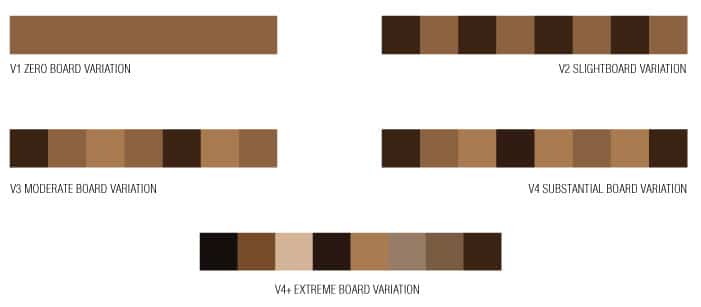 Please note that shades of color are seen differently on computer screens. Customers should request a sample before making a final decision on their floors.
To View Hallmark Floors Board Variation outline, Please click here.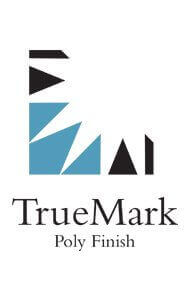 TRUEMARK POLY FINISH
The Siverado Collection from Hallmark Hardwoods is
 finished with our proprietary TrueMark Poly Finish.
By using the latest technology in finish systems our TrueMark Poly Finish is unsurpassed in ensuring the most protective, clear & easily maintainable coatings available for even the toughest of families.
Hallmark Hardwoods uses revolutionary nanotechnology in the surface coats to maintain the beautiful appearance and durability of the surface finish. Additionally, Nine coats of ultra clear aluminum oxide fortified finish, so durable it is carries a limited lifetime warranty against your family's wear and tear.
Aluminum Oxide is also added to provide maximum strength for your floor. TrueMark Poly Finish, fashion, function and beauty designed to protect your wood flooring investment for today and all of your tomorrows.
TRUEMARK – Simply Superior
Durability, Longevity & maintenance made easy are our benchmarks when creating our TrueMark poly finish… for,
• Superior color depth
• Superior durability
Protecting your wood flooring investment for today and tomorrow.

Hallmark Floors uses FSC® hardwood veneers and Carb II complaint glues for the center-ply in our engineered floors' hardwood construction. The center veneers are cold pressed, then hot pressed with tremendous pressure. This process makes the center core Eco-friendly, harder and more proportionally stable.
Higher Stability
Higher Density
Higher Strength
Higher Indoor Air Quality
Truecore® is third party verified and surpasses the emission requirements.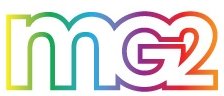 Hallmark Hardwoods Silverado
engineered hardwood floors feature a 2mm rotary face cut layer. This thick wear layer makes it possible to perform 2 guaranteed sandings. You can now enjoy the superior dimensional stability of an engineered hardwood floor without compromising on the thickness of the surface wear layer.
MG2 – Simply Renewable
Birch Hardwoods producing a,
• Certified
• Guaranteed
• Long Lasting
Wear layer for Multi-Generations
to enjoy for years to come.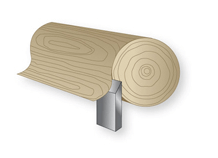 TRADITIONAL ROTARY – CUT FACE
The rotary style has a completely different look than sawn-cut. Rotary-cut top layers accentuate the natural grain pattern and have a more pronounced appearance. It's random grain visuals are a reflection of how the wood is processed.
Traditional rotary peeled veneers are thinner (2.0mm or less). Spinning the log and peeling off a continuous sheet creates this veneer. Hallmark Floors' rotary-cut veneers are thicker than industry standards (2.5mm), which gives ours a more substantial wear surface.
Our sophisticated, state-of-the art cutting machinery, careful management of logs, and slow drying of the veneer, takes Hallmark Floors' rotary-cut style to a higher performance level than ever before.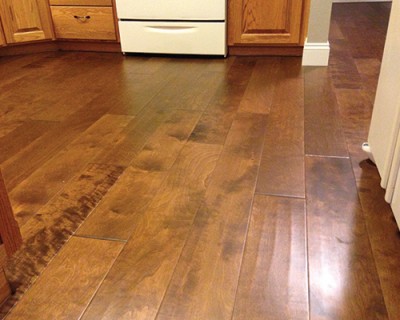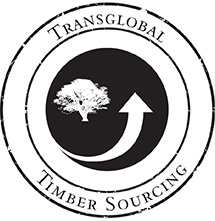 TRANSGLOBAL TIMBER SOURCING
Hallmark Hardwoods Silverado engineered hardwood flooring uses premium Baltic Birch which has been a preferred wood in fine furniture and cabinets for centuries. Harvested from sustainable sources, these historic woods make an ideal fit for your home.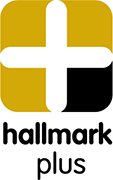 Premium Fashion
Classic to Contemporary
Lifetime Warranty
Limited Lifetime Warranty finish and structure
Ultimate Lengths
Random Length up to 6 Feet Long
Superior Wear
2.5mm Rotary-Cut Face / TrueMark® Poly Finish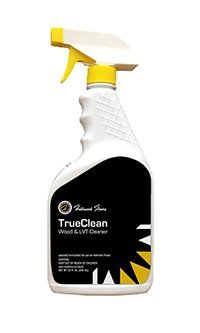 Hallmark Floors' Cleaning Products
TrueClean For Truemark Polyurethane Wood Floors &
Surface Guardian Basic/Pro LVT Floors
TrueClean is a specially formulated for the cleaning and care of
Truemark Polyurethane wood floors and Surface Guardian Basic/Pro
LVT floors. Designed to clean without leaving residue or film buildup.
Leaves floors sanitary, reduces odors, cleans and protects wood
and LVT floors.
Click here to register your Hallmark Floors' wood and luxury vinyl products.
Available on Amazon.com.
Gallon sizes also available for purchase.
MAINTENANCE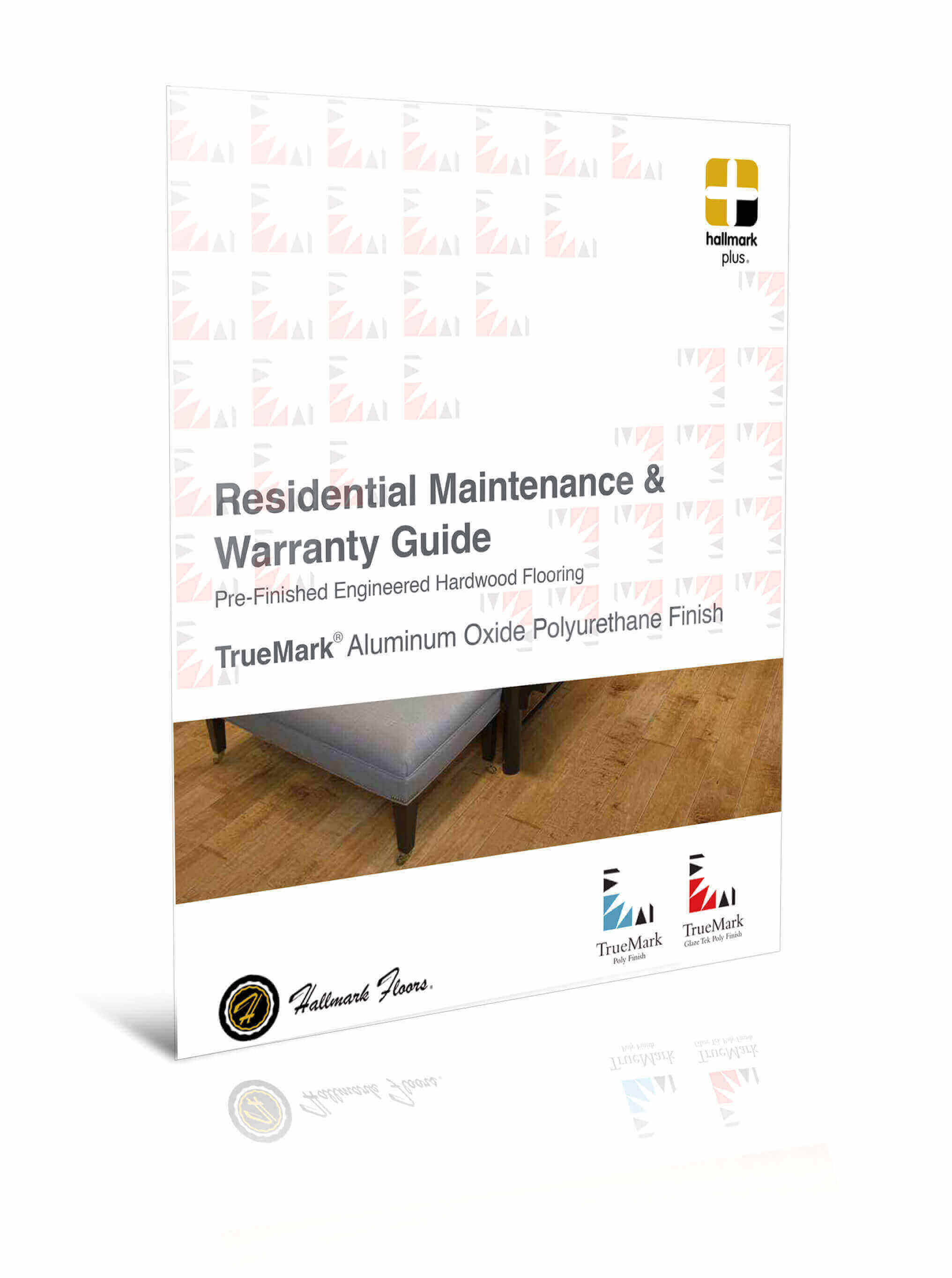 Silverado Hardwood Flooring Collection
Maintenance and Warranty Guide.
Click Here.
Designers and Architects
If you are a designer or an architect and you need additional
information, please fill out the form to the left, and someone
will get back to you soon.
If you are a retailer and would like more information on
how to obtain a display for your store, please go to our
retailer resource page for more information.
Silverado Hardwood Floor Molding (Trim)

Hardwood floor molding and trim information for Hallmark Hardwoods floors. If you have questions or would like to order our molding, email us or call.
Trim Options: Stair Nosing / T-Molding / Threshold / Reducer / Quarter Round:
Hallmark Floors manufactured trim Lengths are 82″
*All Hallmark Floors' moldings are engineered with the exception of Quarter Round.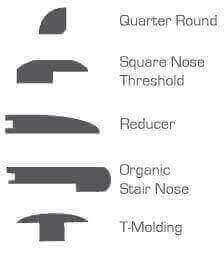 Molding Specifications
Download PDF Here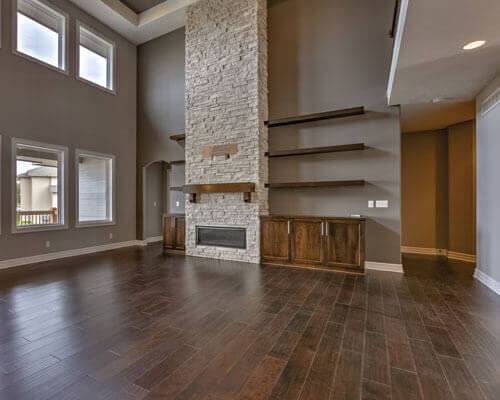 We design beautiful, fashionable floors for any life style.
Visit your local dealer to see for yourself why our floors are Simply Better.
Locate a local dealer, Hallmark Floors' Dealers.