We received these great images from a customer in Seneca, South Carolina. These Organic Hickory engineered hardwood from the Organic 567 collection were installed by Dixie Flooring Inc. The customer wrote: "I LOVE my floors!!! They are amazing?. I want to shout it to anyone that will listen! I would totally recommend them." It's great to hear that our customers are loving our floors, and that our dealers are doing a great job installing them!
The textured surface of the hardwood is a lovely design choice, and one of our favorites here at Hallmark. Instead of a smooth finish, these boards have saw blade marks that accent the beautiful hickory.  This rustic hardwood look is growing in popularity, and we're happy to see more of it! Take a look at the rest of the Organic hardwood collection.
These photos capture another of our favorite characteristics of these boards: varying width and length. It highlights the natural beauty of the wood and gives the room an organic feel.  You can even use the varying widths to enhance certain features of the room. Use the wide planks to make a large space feel grand, and thinner planks to make a nook feel cozy. A good designer will use the Organic Hickory hardwood's natural characteristics to make your home look the best it can be.
Learn more about our hardwood with our Hardwood 101 guide.
Organic Hickory Hardwood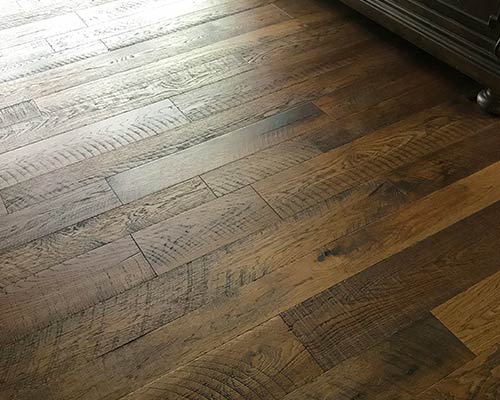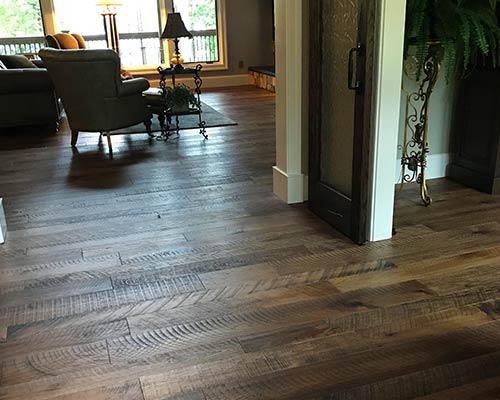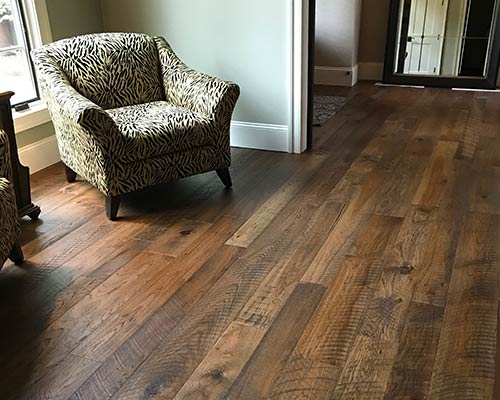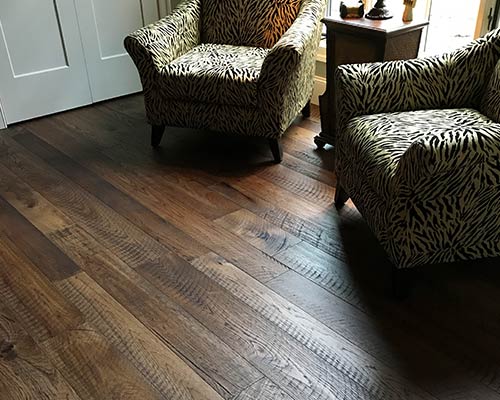 Looking for an installer? Check out one of our newest Hardwood Dealers, Prodan in Gresham Oregon, or visit our Dealer Locator.
Check out our other Hardwood Floors.
We design beautiful, fashionable floors for any life style.
Visit your local dealer to see for yourself why our floors are Simply Better.
Locate a local dealer, Hallmark Floors' Dealers.
Follow us on Facebook, Instagram and Google+.
Houzz Exposure is important to for business today.
Simply Beautiful
Simply Durable
Simply Hallmark