Introducing KLC's Floors & More, Inc. in Starke, FL.
Not all hardwood flooring dealers are created equal… some are simply better.
 They have been selected to be a Spotlight Dealer for Hallmark Floors, because of their quality service and knowledge of our products.


KLC's Floors & More, Inc. is a local Hallmark Floors Spotlight Dealer in Starke, FL.
1365 South Water
Starke, FL 32091
(p) 904.964.8347
Click through to their Website


FIVE STAR RATING
Why you should choose KLC's Floors & More, Inc.


"KLC Floors has been serving the Keystone Heights and the surrounding areas since 2004. We are known for our attention to detail and ability to make each and every customer feel as important as they should. We have one of the most highly skilled crews in the area with the ability to serve the entire southeast region with our services. There are truly no jobs too big or small to deserve our attention. We would also like to thank every single customer for trusting us and giving us the ability to continue doing what we love. Come in or give us a call and let us know if we can help!" – KLC's Floors & More, Inc.
Offer FREE in-home estimates


Established in 2004


They carry all of Hallmark Floors' products
Don't take our word for it.
Here are third party testimonials you can read for yourself.
On time, professional, polite,clean, very respectful,were there was a seem Anthony made it disappear!
I wish I had them carpet my last house. Hats off to Anthony, Kody, and Tyler.
I think you just call them first!
I highly recommend KLC for your flooring and tile needs. Kenny and staff are great at helping with selection and working with your schedule to get the work done. I remodeled two bathrooms and carpeted one room in 2017 and I am 100% satisfied. I definitely will choose them again for my next floor project!
So excited about writing this review for KLC. My husband and I bought a place in Melrose that needed some work (drywall, painting, plumbing, flooring, etc.) I got estimates, talked to at least three dozen contractors, even had to terminate a drywall contractor. Many sleepless nights, tears and frustrations later I have a contractor I can BRAG about. KLC's Floors has been amazing. Justin came out several times to test, measure, show us products, etc. I questioned him until I was blue in the face and his countenance never changed. He calmed my fears, answered my questions, even the ones I repeated and has done the job he promised to do and so much more. My vinyl flooring looks awesome. I am so excited. Just when I didn't think things could get any better. KLC will also be installing my back splash. I will not contract with anyone in the future until I speak to KLC. If they can do what I need they will be my go to for all future needs! I highly recommend them for any job you want extremely well done and customer service don't get much better. Thank You KLC!
Friendly staff and professional services. We had carpet and tile installed. Ask to see closeout samples for the best prices.
KLC's Floors & More, Inc. Show Room
Meet the team!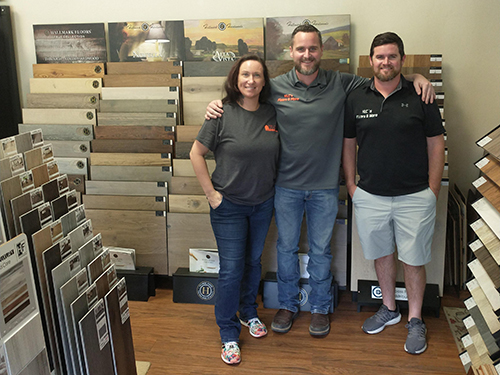 A Sample of their work
Coming soon…
Not in Starke, Florida?
Click here to locate an authorized Hallmark Floors' dealer near you.
Are you a dealer and you want to carry Hallmark Floors?
Click here to locate a Hallmark Floors' distributor near you.
KLC's Floors & More, Inc. in Starke Fl | Spotlight Dealer
Source for content | KLCFloors.com