Board Variation & Color Change
Wood is a natural product and will vary in color and grain appearance from board to board. This is a natural aspect of the wood. Texture, including graining, knots, natural imperfections and character will vary significantly from board to board. Exposure to UV rays from sunlight, florescent, LED and incandescent bulbs can change (patina) each board. Window coverings, UV resistant tint, solar screens can minimize but not eliminate this natural occurrence. Certain species and collections are more susceptible to light and development of varying degrees/shades of patina, due to their high content of natural oils & tannins. V1, V2, V3 & V4 are levels of this variation. V1 shade variation is uniform in appearance from plank to plank, whereas a V4 classification will have a large variety of color and texture changes.
Prior to any installation, a range of planks should be approved by the customer. No claims for shade or texture variation will be honored after installation.
Download Hallmark Floors' board variation outline for fumed collections.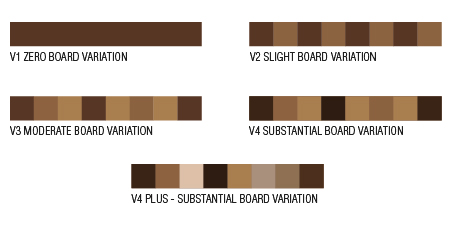 Please note that shades of color are seen differently on computer screens. Customers should request a sample before making a final decision on their floors.