If you have ever thought about calling Park City, Utah, a picturesque town with magnificent mountain ranges, your home, you are in for a treat! People from around the globe flock to this beautiful town to enjoy the vibe of luxury and comfort with a deep appreciation for the outdoors. Christa Pirl, the designer of this warm mountain modern interior, incorporated the Park City vibe when creating this beautiful model home.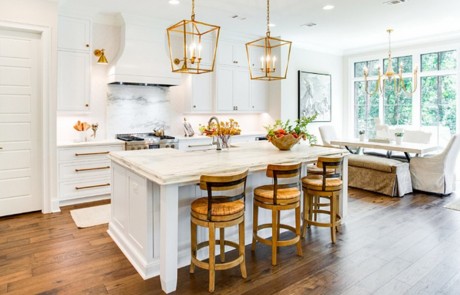 DESIGN
According to Christa, this house was not being designed for a specific client, and as a result, she had some fun designing the space. Much detail was put into the planning process that took about a year to complete. It was not an easy task as a rapidly approaching deadline loomed. "This house was for the Park City Area Showcase of Homes, so we were under tight deadlines to complete it. Let's just say it was down to the wire," added Christa. The Park City Area Showcase of Homes is an event that displays 12 exquisite homes that have been painstakingly curated. Thankfully, Hallmark Floors is a "go-to" flooring company for Christa because of its products that appeal to a wide-range of styles and personalities. The designer had many flooring options to choose from, but the Monterey: Casita – Hickory was the winner. Christa indicated that "the wood had a perfect blend of grey with warm colors, allowing the grey in the cabinets to complement the wood. The white cabinets added the modern vibe to the space."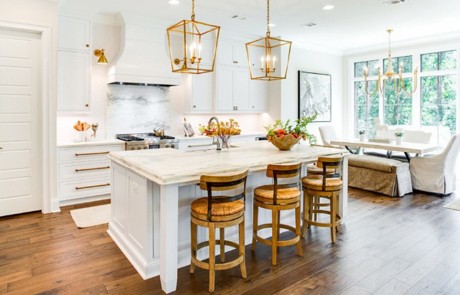 STYLE
This beautiful home is a lovely retreat for residents to relax in comfort and style. The open floor design extends into the dining room, thus allowing for functional entertainment. The large floor-to-ceiling windows enable beautiful views of the mountains and provide a great interior and exterior living experience.
The Monterey: Casita – Hickory floors are crafted out of hickory and combine random width planks that offer a stunning natural blend as seen in this breathtaking space. An added benefit that future residents are sure to take pride in are these 100% renewable floors which are obtained from sustainable sources — a classic example of bringing the outdoors effortlessly into a pleasant living space — perfect for the Park City vibe.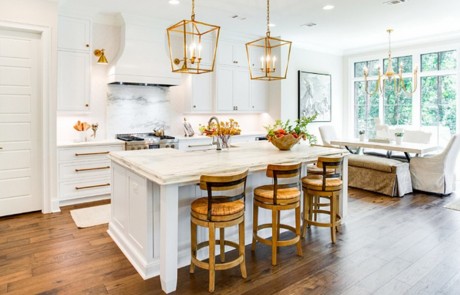 "Hallmark has a quality product. Many looks, colors that will appeal to any style or client." -Christa Pirl


Christa Pirl established Christa Pirl Interiors, a full service design firm focusing on eclectic, contemporary and livable spaces infused with a sense of history and tradition. Learn more about Christa Pirl Interiors at www.christapirl.com.


Authorized Hallmark Floors dealers are your best choice to find all of our products in one place and to receive expert advice. Contact a Spotlight Dealer near you. Search your area for a Spotlight Dealer here.