Jay Young of Toulmin Cabinetry & Design knew the style he was looking for when he set out to build his new family home in Tuscaloosa, Alabama. After selling their home two days after his wife, Mary, listed it on the open market, the couple quickly began the process of building a dream residence with all of their desired amenities including highly coveted kitchen and closet spaces. Despite a long commute and temporarily dwelling in a house with no closet, Jay and Mary were up for the challenge of building their dream home.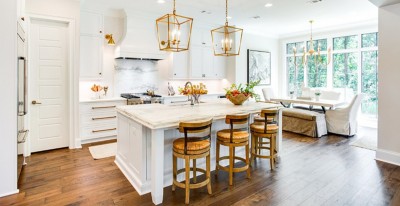 DESIGN
Jay's acumen for design led him to create his own narrative by balancing modern and traditional styles. His love for transitional design became the anchor of what would ultimately become an eight-month-long project, from beginning to end. The result: a stunning new home boasting a neutral color palette highlighting clean lines and modern accent pieces. The kitchen's vibrance resonates with jaw-dropping beauty while most of the home's interior is graciously wrapped with Hallmark Floors' Novella: Eliot – Hickory hardwood floors. "We wanted floors that were easy to maintain with a classic look," added Jay. "The Novella: Eliot – Hickory was classic with distinction but timeless as far as floors go." Jay added that, "[the floors] will be in style forever. They have the depth and interest that so many others don't have." A special hardwood flooring feature that Jay and his family are sure to benefit from is Hallmark's Truemark Glaze Tek Poly® Finish which adds versatility to this home, offering a low-sheen luster designed to enhance durability.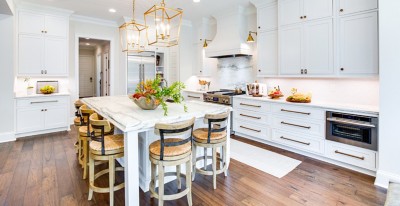 STYLE
While the Novella: Eliot – Hickory floors boast the style and durability perfectly suited for this transitional masterpiece, it's the overall combination of functional elements that offer a bright impression sure to stun visitors. The key to achieving transitional style in this project was finding the right balance. Jay masterfully curated the perfect harmony of styles by welcoming a mesh of modern and traditional elements, thus creating a sophisticated yet livable home full of amenities, style, and function that will last a lifetime.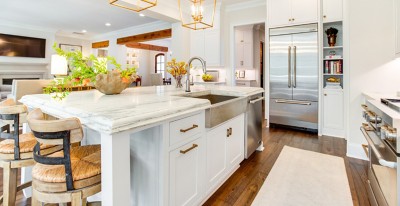 "Selecting Hallmark Floors for our home was the easiest selection during the home building process.  We fell in love with the Novella: Eliot Hardwoods & they turned out absolutely incredible." -Jay Young (Toulmin Cabinetry & Design)


Jay Young CKD is the Owner and Principal Designer of Toulmin Cabinetry & Design, an award winning kitchen and bath design-build firm located in Tuscaloosa, Alabama. Learn more about Toulmin Cabinetry & Design by visiting www.toulmincabinetry.com.
DEALER NEAR YOU

Authorized Hallmark Floors dealers are your best choice to find all of our products in one place and to receive expert advice. Contact a Spotlight Dealer near you. Search your area for a Spotlight Dealer here.