Hallmark Floors HD EXPO Hospitality Design Event will never be better!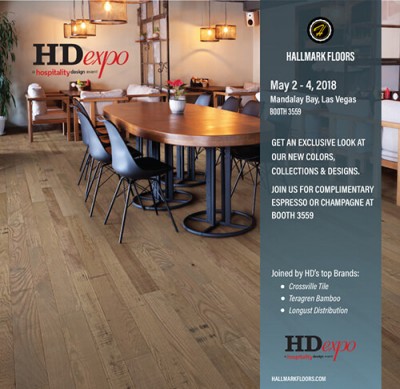 We are so excited for the HD Expo this year. It will held at the Mandalay Bay Convention Center in Las Vegas, May 2-4, 2018. Visit our booth, 3559.
There is so much to see and discover. We will be showcasing one of our best kept secrets at the show this year, an amazing new floor is coming.
Plus, we have the new Alta Vista hardwood colors that you must see. The new colors are current to the trends being set by famous designers like, Joanna Gaines. You don't need to be a designer to appreciate the beautiful NuOil® matte finish and the contemporary colors Alta Vista offers. The number one sought after collection for the last three years, Alta Vista engineered wood floors continues to deliver on fashion and quality.
But wait… there is more. (Sorry. I couldn't resist the sales cliché. )
This year Hallmark Floors is teaming up with the best tile company in the US, Crossville. They have some new looks you will want to see! The new black tile is simply gorgeous.
Another great flooring company will be in our booth as well. Teragren Bamboo has three new collections, Wright, Neotera, and Essence. I have my favorite color from the new collections and I would love to hear what yours is, so please stop by at booth #3559. We will be serving Espressos in the morning and Crossville will have Champagne in the after noon. (Our canvas bags will also be available, but they will not last, so be the first to get one! First come first serve on the large canvas bags.)
Hallmark Floors HD EXPO Hospitality Design Event May 2-4, 2018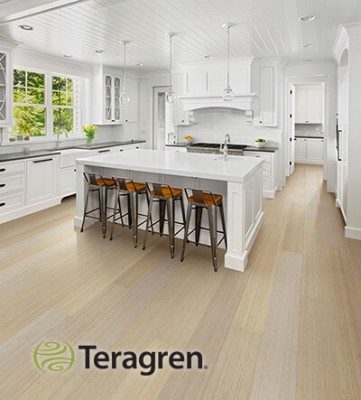 Here's a sneak peek at one of the new colors from Teragren Bamboo floors, and as usual, the photography doesn't do it justice. The color is Hughes from the Wright Bamboo collection.
To really appreciate the aesthetics of bamboo flooring, you must see it in person. Wright Bamboo is coming soon to a dealer near you, but if you can't wait, visit Teragren at the HD Expo. You can see the whole NEW collection in Las Vegas at the Mandalay Bay convention center, booth #3559.
Teragren Inc. has created new fashionable colors and textures that you will not see any where else or in any other bamboo floor. This is not a BIG Box on the shelf generic bamboo floor. A lot of time, thought and patience has gone into creating these new bamboo flooring collections. The new collections still have the Teragren quality that you expect and deserve with Xcora® and Pureform®.
I predict the new colors will be popular. The textures will be a perfect compliment to any design.
From all of us at Hallmark Floors Inc., Tergren Inc, and Crossville Inc, we hope to see you at the HD Expo.
Hallmark Floors HD EXPO 2018, May 2-4.
We have Spotlight Dealers who are ready to help you with any questions you may have about our floors. To locate a dealer near you, click on our dealer locator.  If you have any questions, please contact us. We will be more than happy to help.