Alta Vista Hardwood Collection
Simply innovative
Alta Vista hardwood collection is a return to vintage European Design and is crafted out of French White Oak, a premier hardwood.  For centuries French white oak wood has been used for everything from flooring to shipbuilding, because of its stability. Alta Vista boasts generous widths and lengths, and is topped with our exclusive NuOil® finish for a classic style and elegance.
The floors feature Hallmarks authentic sawn-cut style, that is lightly sculpted & wire brushed 100% by hand, proving the dynamics & innovation of the Alta Vista Collection. This collection's stunning color pallet and historically worn/natural patina reinforces a true European trend and makes it one of a kind.
BENEFITS
Finish:
NuOil® – No recoat at time of install
Best stain protection & color retention
Completely VOC free
100% Renewable w/ Warranty intact
Structure:
MG4 – 3 Guaranteed sandings
Highest possible stability w/ Dry Sawn face
Guaranteed Third Party Certification
Truecore® (Engineered) – Uses FSC® certified material
Highest Green Certification
Lifetime Structural Guarantee
Clean Air:
Board Variation Rating:
V4: SUBSTANTIAL BOARD VARIATION
Find a Dealer:
Installation photos from people who love our floors

Click here to see installation photos sent in by Home Owners, Designers & Builders

WOOD CATALOG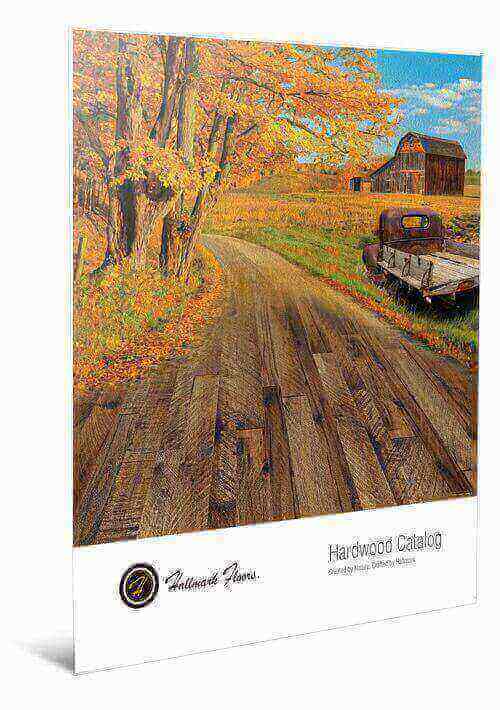 FEATURES
* Dark fill in natural splits and knots.
| | |
| --- | --- |
| Collection: | Alta Vista Hardwood Collection |
| Width: | 7.5″ |
| Thickness: | 5/8 th" thick with 1/6" (4mm) sawn cut face |
| Length: | 6'2″ (74") |
| Edge: | Handcrafted Bevel |
| Surface Texture: | Lightly sculpted & wire brushed 100% by hand, historically worn/natural patina. |
| Coatings: | NuOil® |
| Package: | 23.31 sqft / carton; 50 cartons / pallet |
| Weight: | 50 lbs / carton |
| Warranty: | Limited Lifetime Structural & Residential Finish + 3 years commercial Finish and 10 year commercial structural |
| Trim Options: | Stair Nosing / T-Molding / Threshold / Reducer / |
| Installation Options: | Glue Down, Staple, Float, and Over Radiant Heat |
| FSC® Certificate: | Certificate – SCS-COC-004977 | License – FSC-C121559 |
All wood collections are natural products and can have high variation of color and graining. It is recommended to look at our room scenes and multiple samples when making a final product selection.
WHAT YOU NEED TO KNOW
5 steps you need to know before buying/installing your new Hallmark Floors:
1.
Choose the right retailer and installer.
Make sure they are in good standing with their community.
Read their reviews.
Get references.
Check out their craftsmanship by asking for installation photos of their prior projects.
2. Be on site when your new floors arrive.
Verify that they are the correct collection and color before they start the installation process.
Board Variation
Wood is a natural product and will vary in color and grain appearance from board to board. This is a natural aspect of the wood. Texture, including graining, knots, natural imperfections and character will vary significantly from board to board. V1, V2, V3 & V4 are levels of this variation. V1 shade variation is uniform in appearance from plank to plank, whereas a V4 classification will have a large variety of color and texture changes.
Prior to any installation, a range of planks should be approved by the customer. No claims for shade or texture variation will be honored after installation.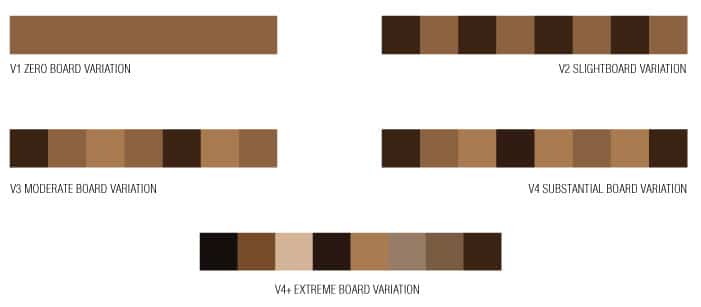 Please note that shades of color are seen differently on computer screens. Customers should request a sample before making a final decision on their floors.
To View Hallmark Floors Alta Vista Board Variation outline, Please click here.

NuOil® Hybrid Multi-layer Oil Finish
NuOil® incorporates new hybrid technology, creating a highly durable, stain and fade resistant finish, all with a limited lifetime warranty. NuOil® is easier to maintain than traditional oils and does not require an immediate re-coat at time of install.
NuOil® – Simply Worry Free
The revolutionary oil system using
hybrid technology making it:
• Highly Durable
• Easily Renewable
• Stain Free Resistant
One step better, one step less for a
worry free floor.
NuOil® FINISH PROCESS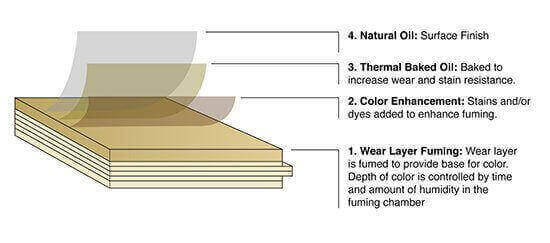 Simply Versatile
Hybrid Multi-Layer Finish Process Creates Most Durable and Versatile Oil Finish in the Marketplace. NuOil® is Unsurpassed in Stain & Wear Resistance.
The timeline history for oil finishes for hardwood floors.
Antiquity – Natural Oil:
Derived from plant seeds this finish allowed new civilizations to seal wood floors. The downside was that they required frequent reapplications and could not protect the wood from common staining agents.
19th Century Hard Wax Oil: – This was a revolutionary step forward in that with the development of petroleum paraffin wax was now very affordable. Wax was now mixed into the natural oils making the coatings thicker and the reapplication of oil less frequent. However, the downside of vulnerability to common staining agents, coffee, tea, wine, mustard, etc., still remained. This product arrives at the job site primed not fully finished requiring a coat of oil to be applied adding cost. This solvent based oil is flammable and requires long drying times after application
1960's UV Oil: Closely resembling polyurethane UV Oil eliminate dissues with common staining agents. However, they do not have the resistance to wear of modern polyurethanes and are thus susceptible to premature wear. Maintenance systems comprised of acrylic polishes are prone to build up.
21st Century – Hallmark Floors NuOil®: A hybrid two stage Oil finish for a new era! Hallmark creates the color in layers and then seals the floor with a thermal cured oil. Additionally, a blend of unique natural oils are then added on top of the thermal oil offering an unsurpassed level of stain protection for the floor. Simple maintenance systems eliminate the flammability issues of other oil systems, with simple trigger spray applications for the 21st centuries busy lifestyles.
NuOil® PASSES THE STAIN TESTS
16 hour stain tests for Hallmark's NuOil® Finish
Cranberry Juice – Pass
Mustard – Pass
Red Wine – Pass
Tea – Pass
Coffee – Pass
Alcohol – Pass
* Verification of these tests will be available soon.
Hard Wax Oil Fails
Cranberry Juice – Fails
Mustard – Fails
Red Wine – Fails
Tea – Fails
Coffee – Fails
Alcohol – Fails
ALTA VISTA HARDWOOD COLOR, GRAINING & NATURAL CHANGES

Alta Vista wood floors are a natural product that features distinct color and graining. The contrast of this collection can vary from light to dark visuals between boards along with
the grading of large to small knots. Each board is unique in its characteristics and will vary from piece to piece. Natural surface knots and voids are filled with dark putty.
This floor represents a subtle to antique-distressed visual (Historic Walnut and Oak). These subtleties may become more distinct over time due to exposure to direct sunlight.
Occasional rearranging of furniture and rugs will help reduce the potential effects of the sun.
*Below are samples of the board variation range in Alta Vista: Avalon, Balboa, Catalina, Del Mar, Laguna & Malibu. Remember, wood is a natural product and will naturally vary in graining, color and shading.
EUROPEAN & AMERICAN TIMBER SOURCING
Alta Vista engineered hardwood flooring, uses premium PEFC Certified French and USFS Certified North American Species. American Walnut and French White Oak have been the premium woods used in fine furniture and cabinets for centuries. Sourced from sustainable sources make these historic woods an ideal fit for your home.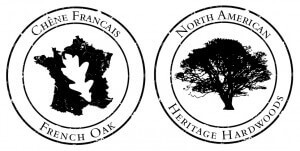 Hallmark Floors uses FSC® hardwood veneers and Carb II complaint glues for the center-ply in our engineered floors' hardwood construction. The center veneers are cold pressed, then hot pressed with tremendous pressure. This process makes the center core Eco-friendly, harder and more proportionally stable.
Higher Stability
Higher Density
Higher Strength
Higher Indoor Air Quality
Truecore® is third party verified and surpasses the emission requirements.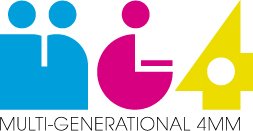 Alta Vista engineered hardwood floors
, features a long lasting
4mm PEFC Certified French and USFS Certified North American sawn face layer. This
ultra thick wear layer has the same usable surface as 3/4" solid hardwood flooring,
allowing 3 guaranteed sandings. You can now enjoy the superior dimensional stability
of an
engineered hardwood floor
without compromising on the thickness of the surface
wear layer.
MG4 – Simply Renewable
100% Sawn, PEFC Certified French and USFS Certified North American Hardwoods producing a,
• Certified
• Guaranteed
• Long Lasting
Wear layer for Multi-Generations
to enjoy for years to come.
PREMIUM SAWN –CUT FACE

Sawn Face allows for a thicker face cut and solid hardwood
flooring visuals. Sawn-Face engineered hardwood floors
use slow growth materials more efficiently.
Simply Thicker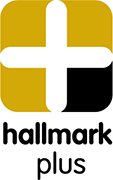 Premium Fashion
Classic to Contemporary
Lifetime Warranty
Limited Lifetime Warranty finish and structure
Ultimate Lengths
Random up to 6.2' Long
Superior Wear
4mm Sawn Cut Face / NuOil® Finish
NuOil® Products
NuOil® Cleaner and Re Nu are for Nu Oil Wood Floors
NuOil® incorporates new hybrid technology, creating a
highly durable, stain and fade resistant finish, all
with a limited lifetime warranty. NuOil® is easier to
maintain than traditional oils and does not require an
immediate re-coat at time of install.
Click here to register your Hallmark Floors' wood and luxury vinyl products.
Available on Amazon.com and through your local dealer.
Gallon sizes also available for purchase.
MAINTENANCE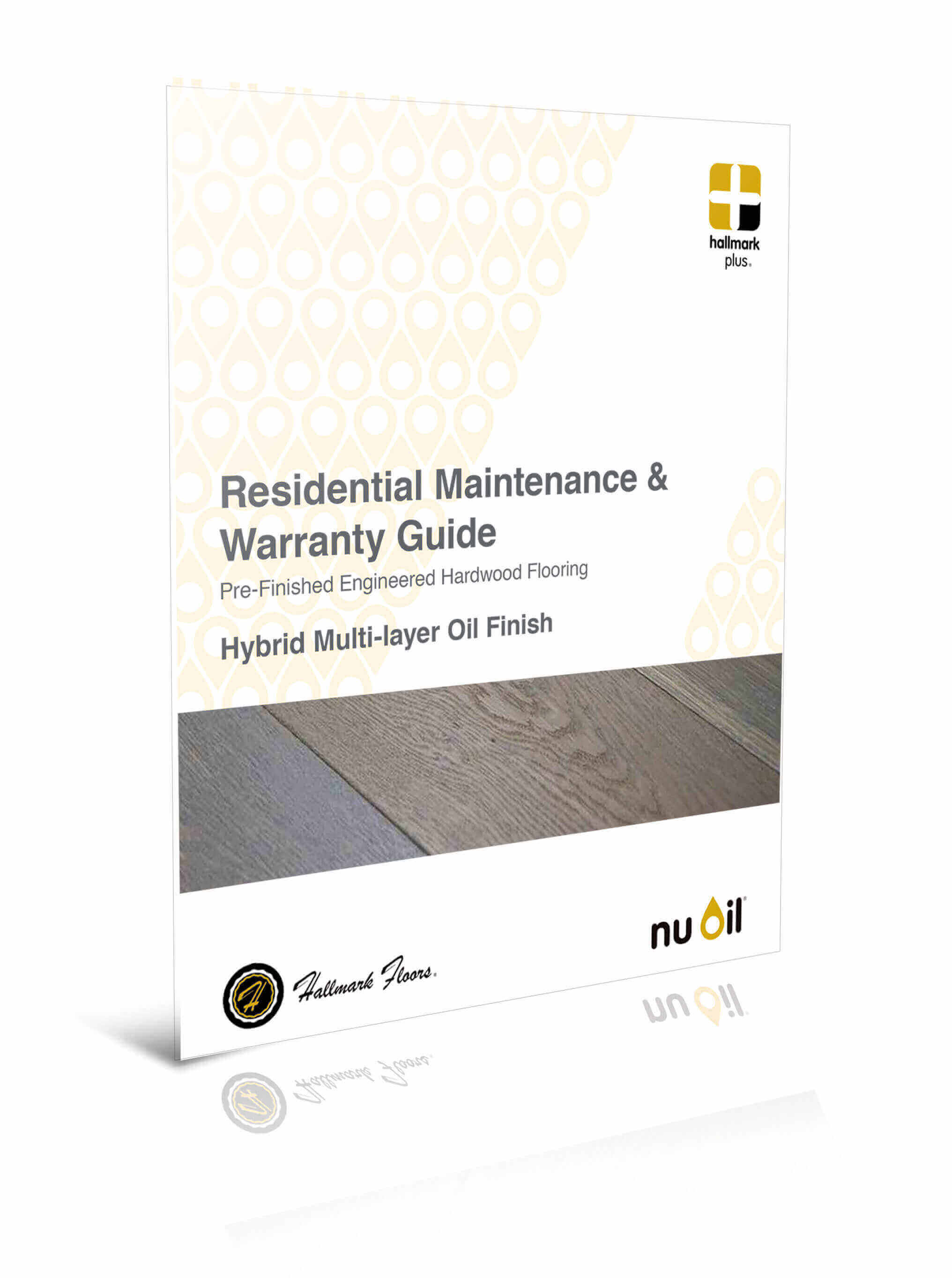 Alta Vista Hardwood Flooring Collection
Maintenance and Warranty Guide

Click Here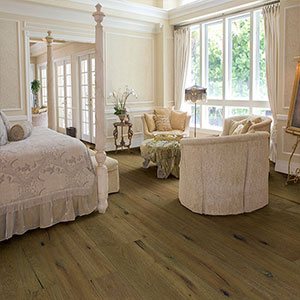 Designers and Architects
If you are a designer or an architect and you need additional
information, please fill out the form to the left, and someone
will get back to you soon.
If you are a retailer and would like more information on
how to obtain a display for your store, please go to our
retailer resource page for more information.

Hardwood Floor Molding (Trim)

Hardwood floor molding and trim information for Hallmark Hardwoods floors. If you have questions or would like to order our molding, email us or call.
Trim Options: Stair Nosing / T-Molding / Threshold / Reducer / Quarter Round:
Hallmark Floors manufactured trim Lengths are 82″
*All Hallmark Floors' moldings are engineered with the exception of Quarter Round.
Hardwood Floor Molding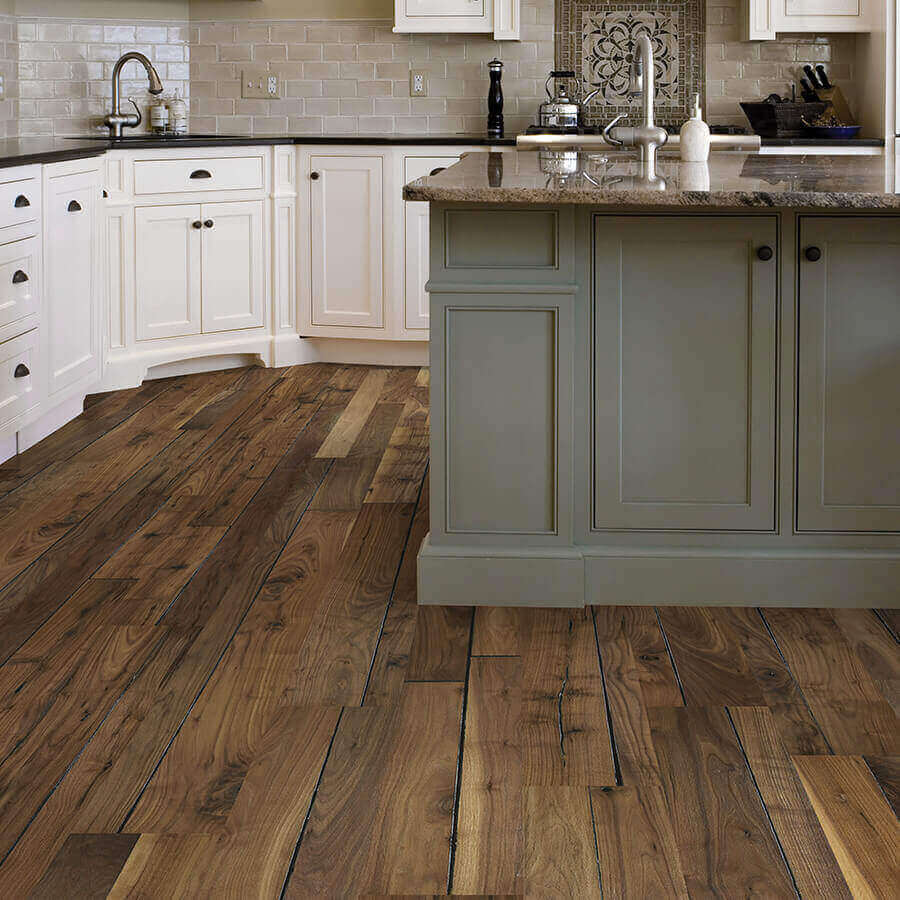 How to us NuOil® Natural Oil Cleaner

Maintenance
Install felt protector pads on bottom of all furniture
Place mats or rugs at all entrances
Sweep, vacuum, and/or dust mop regularly
Wipe up spills immediately with a dampened cloth and follow up with NuOil® Natural Cleaner
Apply NuOil® ReNu as needed or every 6 months to refresh and feed the oil finish
Do not use wet mops, household dust treatments, petroleum-based cleaners, or steam cleaners.
MSDS Data Information
We design beautiful, fashionable floors for any life style.
Visit your local dealer to see for yourself why our floors are Simply Better.
Locate a local dealer, Hallmark Floors' Dealers.
Follow us on Facebook, Instagram and Google+.
Save