Alta Vista Hardwood Collection
Installation photos from people who love our floors

Click here to see installation photos sent in by Home Owners, Designers & Builders
WHAT YOU NEED TO KNOW
5 steps you need to know before buying/installing your new Hallmark Floors:
Board Variation
Wood is a natural product and will vary in color and grain appearance from board to board. This is a natural aspect of the wood. Texture, including graining, knots, natural imperfections and character will vary significantly from board to board. V1, V2, V3 & V4 are levels of this variation. V1 shade variation is uniform in appearance from plank to plank, whereas a V4 classification will have a large variety of color and texture changes.
Prior to any installation, a range of planks should be approved by the customer. No claims for shade or texture variation will be honored after installation.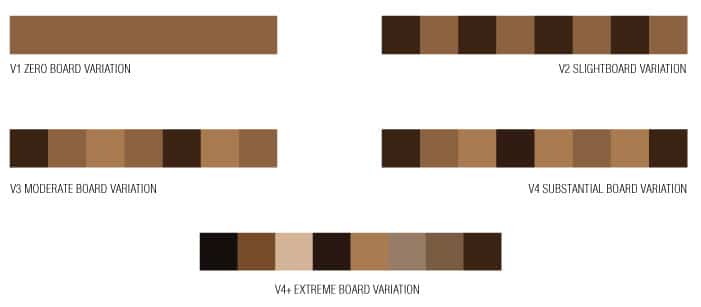 Please note that shades of color are seen differently on computer screens. Customers should request a sample before making a final decision on their floors.
To View Hallmark Floors Alta Vista Board Variation outline, Please click here.
NuOil® FINISH PROCESS
ALTA VISTA HARDWOOD COLOR, GRAINING & NATURAL CHANGES

Alta Vista wood floors are a natural product that features distinct color and graining. The contrast of this collection can vary from light to dark visuals between boards along with
the grading of large to small knots. Each board is unique in its characteristics and will vary from piece to piece. Natural surface knots and voids are filled with dark putty.
This floor represents a subtle to antique-distressed visual (Historic Walnut and Oak). These subtleties may become more distinct over time due to exposure to direct sunlight.
Occasional rearranging of furniture and rugs will help reduce the potential effects of the sun.
*Below are samples of the board variation range in Alta Vista: Avalon, Balboa, Catalina, Del Mar, Laguna & Malibu. Remember, wood is a natural product and will naturally vary in graining, color and shading.

Hallmark Floors uses FSC® hardwood veneers and Carb II complaint glues for the center-ply in our engineered floors' hardwood construction. The center veneers are cold pressed, then hot pressed with tremendous pressure. This process makes the center core Eco-friendly, harder and more proportionally stable.
Higher Stability
Higher Density
Higher Strength
Higher Indoor Air Quality
Truecore® is third party verified and surpasses the emission requirements.
Hardwood Floor Molding (Trim)

Hardwood floor molding and trim information for Hallmark Hardwoods floors. If you have questions or would like to order our molding, email us or call.
Trim Options: Stair Nosing / T-Molding / Threshold / Reducer / Quarter Round:
Hallmark Floors manufactured trim Lengths are 82″
*All Hallmark Floors' moldings are engineered with the exception of Quarter Round.
Hardwood Floor Molding
We design beautiful, fashionable floors for any life style.
Visit your local dealer to see for yourself why our floors are Simply Better.
Locate a local dealer, Hallmark Floors' Dealers.
Follow us on Facebook, Instagram and Google+.
Save