Spotlight Dealers for Hallmark Floors

Not all hardwood flooring dealers are created equal… some are simply better.
Introducing Eckard's Flooring in Savannah, GA. They have been selected to be a Spotlight Dealer for Hallmark Floors, because of their quality service and knowledge of our products.
Eckard's Flooring is a local Hallmark Floors Spotlight Dealer in Savannah, GA.
29 Echols Avenue
Savannah, GA 31406
(P) 912.355.6224
Click through to their Website


FIVE STAR RATING
Why you should choose Eckard's Flooring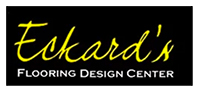 "We're the top name in hardwood flooring stores in Savannah because we are family owned with over 30 year and three generations in the flooring business. There are things about Savannah's hot and muggy summers that can effect your investment in your home flooring (check out our blog article on Savannah and hardwood flooring). Get expert advice in choosing the right hardwood and hardwood installation before you buy. Our hardwood flooring experts know The Low Country and we are often the ones called in to fix mistakes made by our competitors or well-meaning DIYers. " – Eckard's Flooring
Family owned and operated


Are in great standings with their community & distributor


They carry all of Hallmark Floors' products
Don't take our word for it.
Here are third party testimonials you can read for yourself.
We were extremely happy with Eckards Flooring. Their selection is amazing. Both their Salesman, Julian, and the delivery guys went above and beyond. We chose Happy Feet International Loose Lay vinyl plank flooring. It turned out beautifully and SUPER easy to install! I've recommended Happy Feet and Eckerds to everyone. Thank you!
Allison M. – Google.com
Very very easy, helpful, and attentive staff! It literally took me 10 minutes from the time I walked in the door to the time I had a scheduled time for them to come measure for our new carpet and had a sample picked out. I would have never received this level of service from a big box store. Very happy with the finished product. All staff involved were very professional and produced quality results! Highly recommended!
Meagan C. – Google.com
Eckard's Flooring Show Room
Stop by their showroom today and see their line of Hallmark Floors!
A sample of their work
Coming Soon…
Not in Savannah, Georgia?
Click here to locate an authorized Hallmark Floors' dealer near you.
Are you a dealer and you want to carry Hallmark Floors?
Click here to locate a Hallmark Floors' distributor near you.
Eckard's Flooring in Savannah | Spotlight Dealer
Source for content | EckardsFooring.com