Introducing Hammond Lumber in Belfast, ME

Not all hardwood flooring dealers are created equal… some are simply better.
 They have been selected to be a Spotlight Dealer for Hallmark Floors, because of their quality service and knowledge of our products.
Hammond Lumber is a local Hallmark Floors Spotlight Dealer in Belfast, ME.
30 Belmont
Belfast, ME 04915
(p) 207.338.4080
Click through to their Website


FIVE STAR RATING
Why you should choose Hammond Lumber


"In 1953, Clifton "Skip" Hammond borrowed $50 from his wife, Verna, bought a sawmill and started a lumber business in Belgrade, Maine.
In the years since Hammond Lumber Company has grown into one of Maine's largest independent building suppliers. In addition to the ever-expanding sawmill, there are now twenty-one retail stores around the state and also Hammond's Maine Pine Log Homes division, which manufactures and markets log-home building packages." – Hammond Lumber
Established in 1953


over 800 employees company wide


Family owned & operated

They carry all of Hallmark Floors' products
Don't take our word for it.
Here are third party testimonials you can read for yourself.
Hammond Lumber has recently purchased this facility. The first thing they did right was to keep the employees. Hazel is absolutely the star of the show, and she knows every product in the place better than a lot of contractors. The second thing they did right was to establish Sunday hours, which just enabled me to build my chicken house without having to go to a big store far away. I like to shop near where I live, and keep my money in my community. Thank you Hammond for making this easier.
Visiting Hammond reminded me of a time when Home Depot and Lowe's employees actually were helpful. With a new house and lots of projects, having Hammond near by (instead of driving an hour to either Rockland or Augusta) has been a godsend. The employees are great and very patient, helpful and knowledgeable.
I've been going here for over 20 years now. Always friendly staff that are happy to help and they offer a good selection of hardware and building supplies. They also offer many residential and commercial building services.
Have been going here for years. Knowledgeable, helpful staff. Wide selection of goods, small town friendliness. Prices generally rival, often are less than, prices of big box stores. Good parking, easy in and out.
Hammond Lumber Show Room
Stop by their showroom and check out their full line of Hallmark Floors!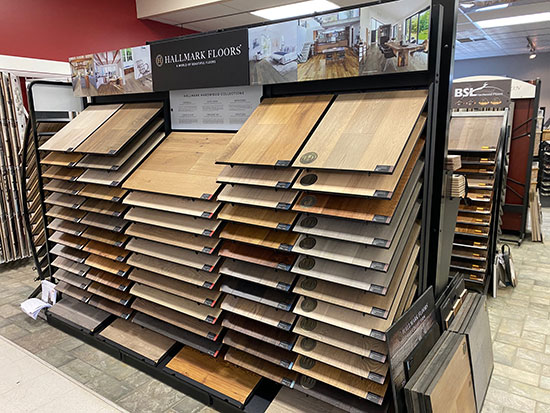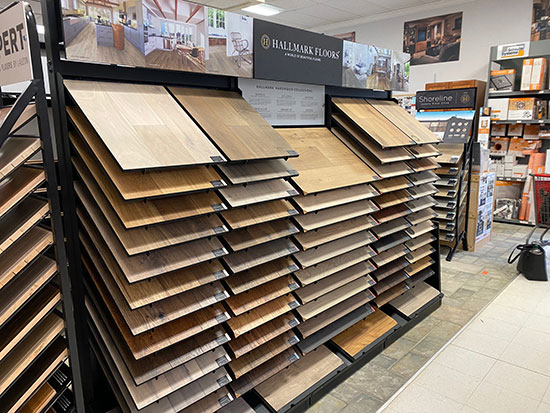 A Sample of their work
Coming Soon…
Not in Belfast, Maine?
Click here to locate an authorized Hallmark Floors' dealer near you.
Are you a dealer and you want to carry Hallmark Floors?
Click here to locate a Hallmark Floors' distributor near you.
Hammond Lumber in Belfast ME | Spotlight Dealer
Source for content | HammondLumber.com