Spotlight Dealers for Hallmark Floors

Not all hardwood flooring dealers are created equal… some are simply better.
Introducing Carpet Masters of Colorado in Longmont, CO. They have been selected to be a Spotlight Dealer for Hallmark Floors, because of their quality service and knowledge of our products.

Carpet Masters of Colorado is a local Hallmark Floors Spotlight Dealer in Longmont, CO.
618 S. Sunset Street
Longmont, CO 80501
(P) 303.651.2407
Click through to their Website


FIVE STAR RATING
Why you should choose Carpet Masters of Colorado

"Welcome to Carpet Masters of Colorado! We understand flooring is the foundation of decorating. It sets the tone for your home and reflects your taste and lifestyle. At Carpet Masters of Colorado, it's our job to help you make your shopping experience a positive one. As the premier floor covering showplace in Longmont area, Carpet Masters of Colorado is your one-stop showroom for all of your floor covering needs." – Carpet Masters of Colorado
Family owned & operated

Been in business for 30+ years

Are in great standings with their community & distributor

They carry all of Hallmark Floors' products
Don't take our word for it.
Here are third party testimonials you can read for yourself.
We have been using Carpet Masters for a few years now and have always been very satisfied with them. I appreciate that they give straight up, honest input and they have always suggested the right product for specific needs. All of the technicians arrive right on time and they're always very polite, professional, and courteous. I think they are a great value and, while they're not the cheapest, they are excellent! They are reliable, dependable, and I highly recommend them!
Bobby K. – Longmont.FloorsToGo.com
This was my second time using Carpet Masters. They did an excellent job in carpet installation. Everything was perfect.They were very professional. I didn't have to supervise them at all. The price is reasonable. They did extra covering of the flooring before they put the carpet on. They were right on time. They came the day they said they would, which is very important. I had no issues. I highly recommend them.
Linda C. – Longmont.FloorsToGo.com
Carpet Masters of Colorado Show Room
Stop by their showroom today and check out their showroom today!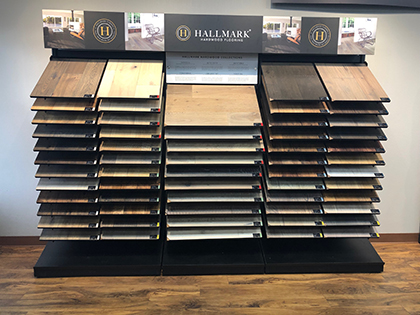 A Sample of their work
Coming Soon…
Not in Longmont, Colorado?
Click here to locate an authorized Hallmark Floors' dealer near you.
Are you a dealer and you want to carry Hallmark Floors?
Click here to locate a Hallmark Floors' distributor near you.
Source for content | Longmont.FloorsToGo.com