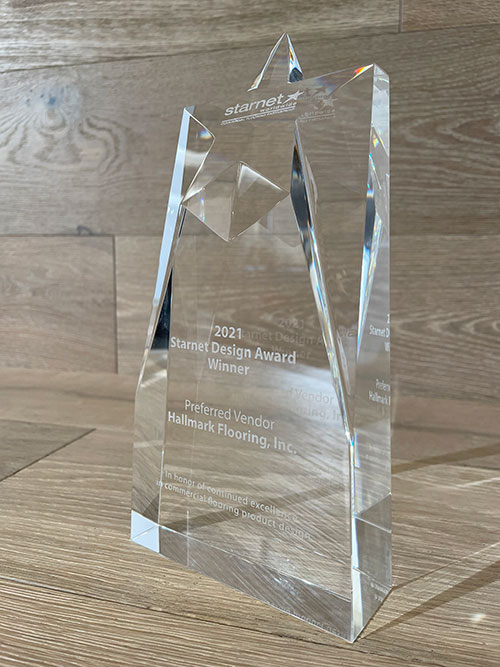 Architect: Cross (X) Architecture inc
Designer: Shelby Hart
Starnet Member: Great Floors, an ADG Company
Starnet Preferred Vendors: American Olean, Hallmark Flooring, Inc., MAPEI
Hallmark Floors | Starnet preferred Vendor
Since 1998, the Starnet Design Awards have recognized dynamic relationships between Starnet Members and the A&D community by spotlighting the innovative use of flooring in commercial design - Hallmark Floors is proud to be a Starnet Partner.
Pacific Point Project with Alta Vista

Pacific Point Condominiums on the Semiahmoo Spit in Blaine, WA is an 18 unit luxury condo building. The location is the last remaining west facing development on the spit and is set on the edge of the ocean. They take full advantage of the natural beauty that surrounded them. The full height windows allowed the beach colors and textures to seamlessly flow into the space. Coordinating a fresh design palette was easy to achieve with the wide plank floors and their subtle and natural stains. Beautiful color schemes represented the Pacific Northwest in these modern and luxurious condos.
When creating a multi-family living environment, comfort and durability are essential. However, style should not be an afterthought. Condominium and apartment living are ideal settings for Hallmark's rigid core resilient flooring collections. From the individual living spaces to common areas, hallways and everywhere in between, these floors offer superior durability and beauty residents expect and deserve.
Alta Vista | Stability, Second to none.
A bit about Starnet:
"We're the world's largest network of full-service independent flooring contractors, committed to the highest standards of excellence in the industry. Through partnerships with the most skilled commercial flooring professionals and highest quality flooring manufacturers, we help deliver successful project outcomes serving the client's vision. For quality, reliability and outstanding results on all your flooring projects, trust Starnet."
Hallmark Floors Starnet preferred Vendor