What does Greenhealth™ Approved mean?

According to Greenhealthapproved.org the Greenhealth Approved seal signals to purchasers that a product has been reviewed for environmental features and found to meet our criteria. The criteria includes a variety of components such as chemicals of concern, packaging, and additional attributes.
The program was developed to help health care providers quickly identify more sustainable products. Greenhealth Approved reduces the time-consuming and sometimes costly product reviews that are needed to research and interpret sustainability features.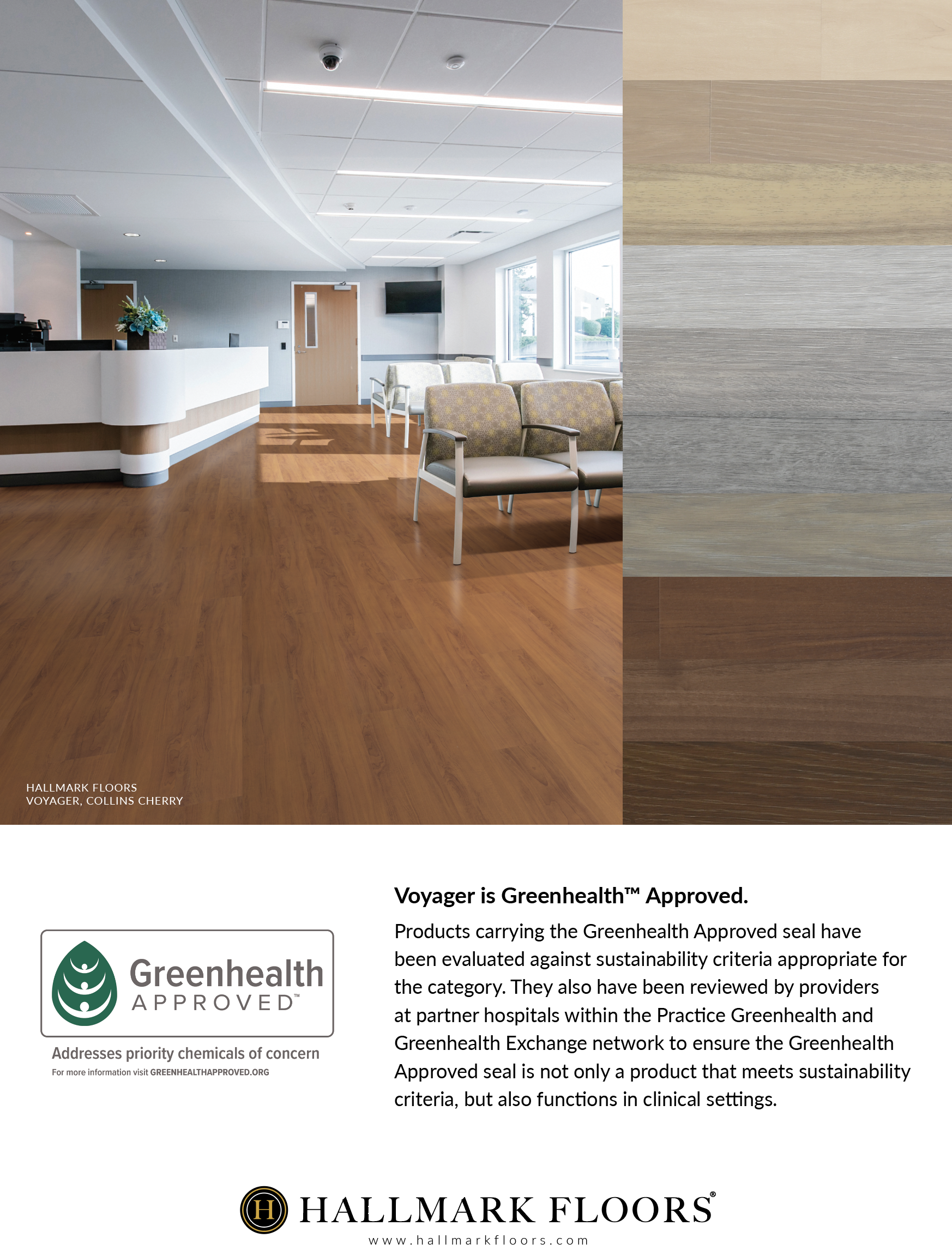 VOYAGER PVC FREE RESILIENT FLOORING
Hallmark Floors is proud to introduce Voyager PVC FREE resilient flooring. Hardwearing while completely free of polyvinyl chloride and other synthetic solvents, Voyager sets a new standard with resilient flooring for the healthcare industry. These floors are polypropylene based with a unique and durable construction, offering both high wear and heat resistance – making them ideal for the tough conditions in healthcare. Voyager features a variety of colors and naturally beautiful wood patterns, thermally sealed with protective finishes.
Voyager is FloorScore® Certified and GreenHealth Approved™ to meet the criteria established by Health Care Without Harm and Practice Greenhealth for sustainability.
High performance in combination with minimal environmental impact – Voyager PVC FREE flooring from Hallmark Floors.
The Voyager Collection is the perfect PVC-free choice for projects requiring completely aseptic environments. The right floor directly contributes to a welcoming, professional and pleasing experience. When selecting a floor for a healthcare project, safety, sterility and environmentally conscious products are vital. Whether a lobby, patient room, or recovery space, optimal cleanliness and aesthetics can be achieved with the Voyager Collection.
"ABOUT GREENHEALTH APPROVED
The Greenhealth Approved seal indicates a product has been reviewed against a set of sustainability attributes aligned with eligible product categories. The seal was developed to help health care providers make smart purchasing decisions that further sustainability goals. Choosing products that carry the seal reduces the research burden for health care staff who are dealing with competing priorities and requests.
Research, resources, and support from our affiliated organizations, Health Care Without Harm and Practice Greenhealth, make the case for prioritizing sustainable products.
WHY CHOOSE GREENHEALTH APPROVED PRODUCTS
Products carrying the Greenhealth Approved seal have been evaluated against sustainability criteria appropriate for the category. They also have been reviewed by providers at partner hospitals within the Practice Greenhealth and Greenhealth Exchange network to ensure the Greenhealth Approved seal is not only a product that meets sustainability criteria, but also functions in clinical settings.
The seal enables health care providers to purchase these products using their existing supply chain procurement strategies. Local contracting, GPO compliance, and use of distributors can still be prioritized while selecting and procuring Greenhealth Approved products."
Source of information:  https://greenhealthapproved.org/