Hospitality Design Exposition & Conference (HD Expo) is the premiere tradeshow and conference for the hospitality industry. Over 800 exhibitors will be there, including Hallmark Floors. This year we will be introducing a new revolutionary product, True hardwood. You will re-think the uses for hardwood flooring once you discover the True Difference.
Visit Hallmark Floors' booth #4821 and see for yourself why the True collection has created new possibilities for commercial hardwood floors.
NEW FOR HOSPITALITY
Reimagine the possibilities of where you can use hardwood with Hallmark's revolutionary True Collection.
THE TRUE DIFFERENCE
Hallmark Floors is proud to introduce the True Collection, a range of wood floors featuring the weathered beauty of bog wood, achieved through a revolutionary process we are first to master. Bog wood is the result of logs lying buried in lakes, rivers, and waterways for centuries, with the wood slowly turning from its natural color to deep golden browns, ashen grays…even completely black. We've replicated this process using innovative technology. Not only are these floors unique in their richness of color and patina, but unlike all other existing wood floors, the beauty and color of each floor runs throughout the surface layer – with true color and true beauty.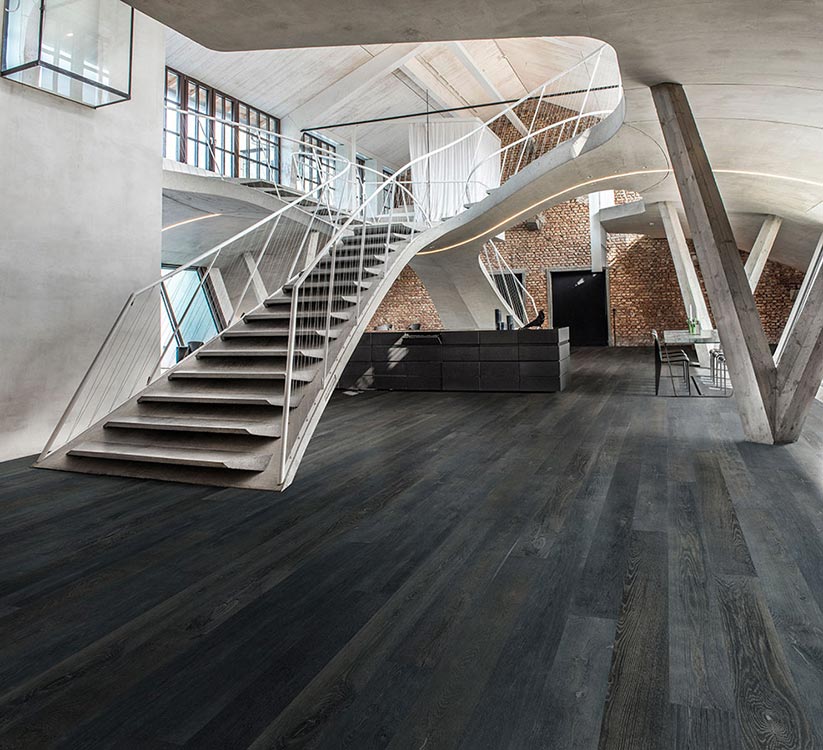 COLOR THROUGH-OUT THE SURFACE LAYER.
The through-color hardwood has changed the commercial flooring category forever. Imagine all the new uses for hardwood floors with True.
Essence Bamboo Hardwood
Essence Xcora Strand Bamboo – These new ultra-wide, beautiful colored strand bamboo floors are wire brushed and hand scraped with natural saw marks for an amazing looking texture and have multiple hand applied coats of low sheen colors for lasting wear resistance.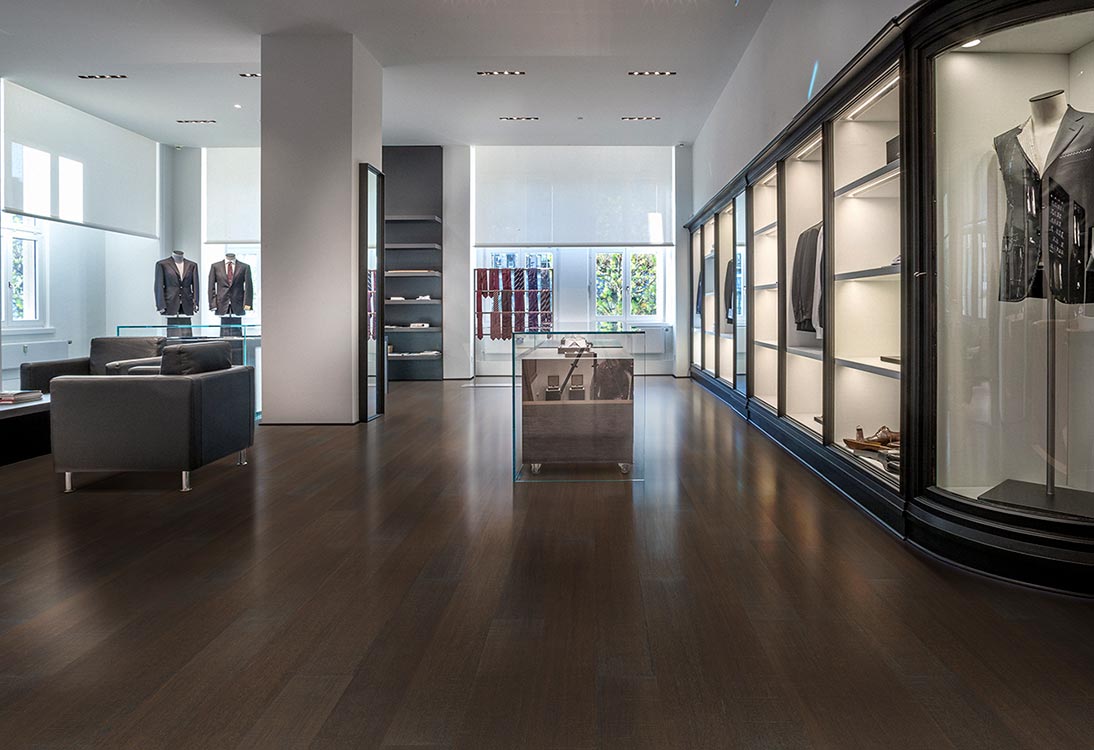 PERFECT FOR EDUCATION
Times Square Dry Back is our newest commercial flooring; inspired by nature and crafted to meet the demands of a modern lifestyle. This contemporary collection provides a wide range of unique designs from concrete slates to natural wood grains and even smooth stones. Times Square waterproof dry back flooring was created to reflect raw materials using high definition printing, embossed textures, large format tiles and crisp colors.
Times Square also promotes a healthy life – it is FloorScore certified and includes Nanocontrol. You will love the durable luxury vinyl sheets for both its quality and design in any commercial or residential space.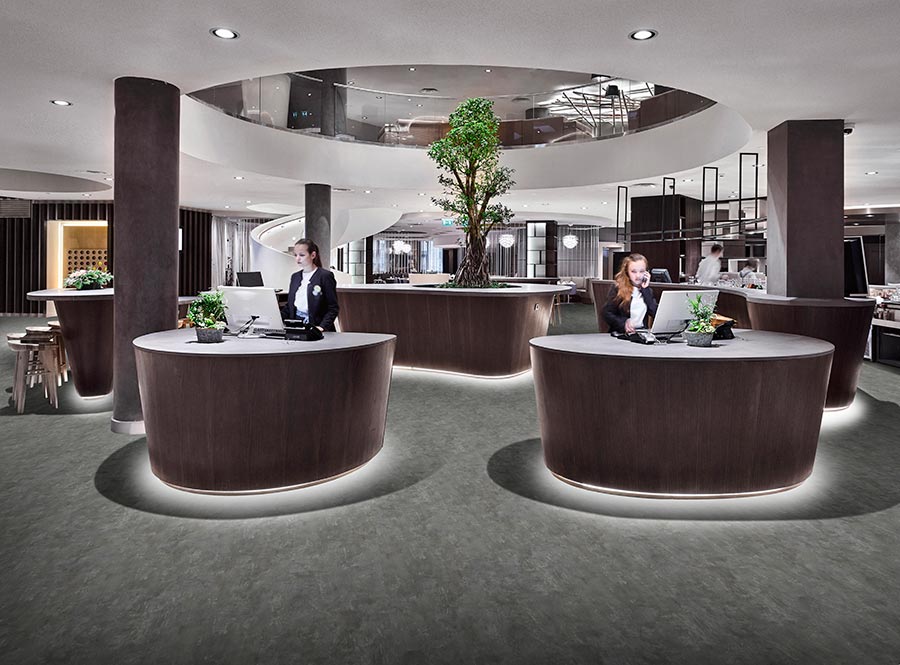 NEW FOR HEALTHCARE
PVC Free flooring is perfect for healthcare commercial environments. Voyager Dry Back is completely free of poly vinyl and other synthetic solvents. Our planks feature a variety of species and colors with convincing realism and thermally sealed, protective finishes, creating the ideal flooring solution. Voyager PVC Free is setting new standards for the healthcare industry.
Discover Voyager PVC Free flooring, environmentally safe, fashionable and durable.
See the new samples at our booth #4821 at #HDEXPO2019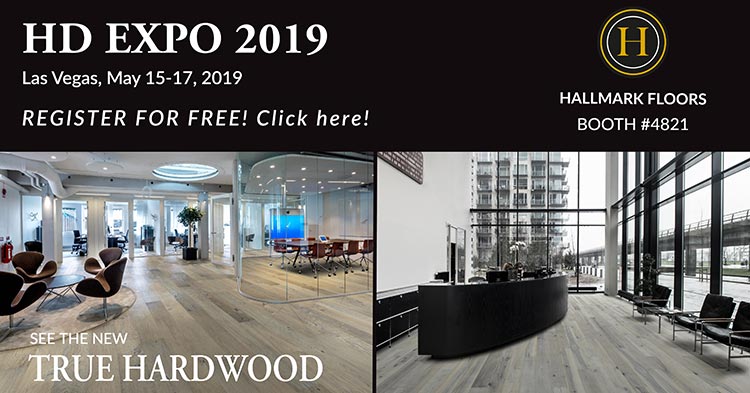 HD EXPO 2019 FREE REGISTRATION
EXPERIENCE THE TRUE DIFFERENCE.