For years, if you wanted bathroom flooring that was easy to maintain and keep free of mold, you went with tile or sheet vinyl. Any sort of hardwood installed next to a bathroom shower or bathtub wasn't very popular.  Modern finishes have come a long way and do a decent job at protecting hardwood against damage, but it only can do so much. Even with more water-resistant hardwoods, the flooring would need to be watched over like a hawk to prevent any water damage. So what do you do if you want a hardwood look in your bathroom? We think a great option is Hallmark's 100% waterproof vinyl plank flooring.

Waterproof Vinyl Plank Flooring for a Bathroom
Luxury vinyl planks allow you to have the look and texture of real hardwood with the benefits of vinyl. Installation is easy and you can do it yourself or find a hallmark spotlight dealer to help you. Vinyl floors also stay warm to the touch, since they retain heat much better than ceramic would. Installing floor heating under vinyl planks isn't as necessary as it would be with cold ceramic tile. As a plus, Hallmark's vinyl finish is anti-fungal and antimicrobial, which is great for bathroom floors that will be touched by bare feet. Even though our vinyl floors are waterproof, we don't recommend vinyl for shower floors and walls.
Another benefit of installing 100% waterproof vinyl planks throughout the home and into the bathroom is the seamless look. Seeing one type of flooring span throughout the home will make your rooms seem larger.
What's the difference between Sheet Vinyl and Vinyl Planks?
Vinyl sheets are different from vinyl planks that are being sold today. Vinyl sheets are rolled out pieces of vinyl dough that are printed on then covered with a wear layer. They aren't as durable, stable, or rigid as planks. The biggest difference is aesthetic, with sheet vinyl not even coming close as vinyl planks to the authentic wood texture.  As an added bonus, if there are any extreme gashes or damage to the plank flooring, a plank can be removed and replaced, which is a nice option that is unavailable if you use sheet vinyl.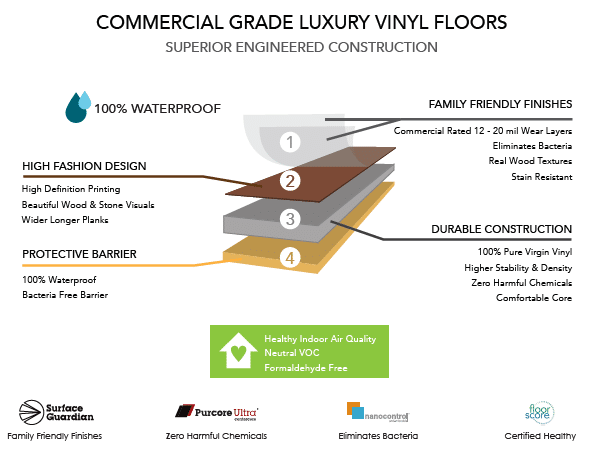 Learn how Vinyl is made.
We would love to share your bathroom photos!
When you're ready to make the switch to vinyl in your bathroom, our spotlight dealers have every sample from our collection.  Shoreline Flooring in Myrtle beach has a beautiful showroom that you can see online.
We design beautiful, fashionable floors for any life style.
Visit your local dealer to see for yourself why our floors are Simply Better.
Locate a local dealer, Hallmark Floors' Dealers.
Follow us on Facebook, Instagram and Google+.
Houzz Exposure is important to for business today.
Simply Beautiful
Simply Durable
Simply Hallmark

Save
Save