SIMPLY CAPTIVATING

Novella Hardwood Collection is a tale of two Finishes, filled with an array of captivating colors. Each color tells a different story and captures the imagination. With two beautiful finishes, both with their own unique characteristics, the Novella Collection inspires possibilities.
This versatile collection was designed to fit any theme and compliment any lifestyle. Create your own narrative with the Novella Collection.
Handcrafted for sustainability, durability and fashion … Hallmark.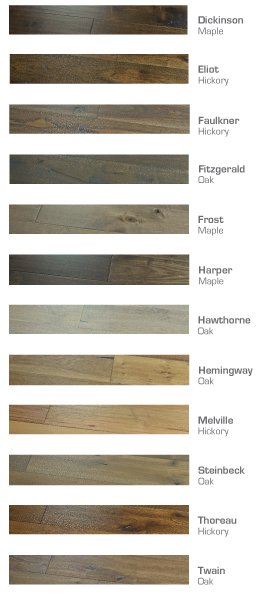 SPECIFICATIONS
* Dark fill in natural splits and knots.
Collection:

Novella Engineered Hardwood Flooring

Width:

6″

Thickness:

7/16″ nominal (1.5mm) Slice Face

Length:

Random up to 6'2″ (74")

Edge Detail:

Handcrafted Bevel

Surface Texture:

Light to Medium Handsculpted (Maple & Hickory)

Wirebrushed (Oak)

Coatings:

TrueMark Glaze Tek Poly® Finish (Maple & Hickory)

NuOil® Finish (Oak)

Package:

24.93 sqft / carton; 66 cartons / pallet

Weight:

34 lbs / carton

Warranty:

5 years Commercial Finish – Maple & Hickory

3 years Commercial Finish – Oak

10 years Commercial Structural

Trim Options:

Stair Nosing / T-Molding / Threshold / Reducer / Quarter Round;

Installation Options:

Glue, Float, Staple, Radiant Heat (Excludes Hickory)

Cleaning Methods:

NuOil® Natural Oil Cleaner & NuOil® Renu (Oak)

TrueClean Floors Cleaner (Maple & Hickory)

Commercial Moderate:

(Light Commercial)

EN 31 – Bedrooms, Hotels, Conference Rooms Small Offices

Commercial General:

EN 32 – Classrooms, Small Offices, Hotels Boutiques

HUD/FHA Requirements:

Meets or Exceeds

Coefficient of Friction (ASTM D-2349):

Exceeds ADA Guidelines of .60

Flooring Radiant Panel Test (ASTM E-648):

Passes (Class1)

Flame Spread Tunnel Test (ASTM E-84):

Meets Class C

Sound Transmission Class STC (ASTM E-90):

Eternity Underlayment STC 72/IIC 73/ Delta 20

Impact Insulation Class IIC (ASTM E-492, E-989):

Eternity Underlayment STC 72/IIC 73/ Delta 20

Installation Adhesive:

Urethane wood Adhesive

Subfloor Requirements:

Below, On or Above Grade

FSC® Certificate:

Certificate – SCS-COC-004977 | License – FSC-C121559
Installation Instruction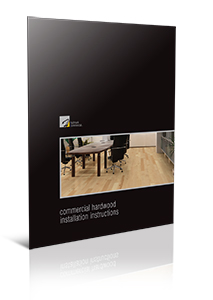 Installation Instructions PDF
Click here to download.
Maintenance & Warranty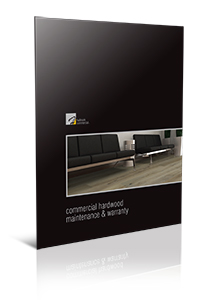 Maintenance & Warranty PDF
Click here to download.
Ceilings & Walls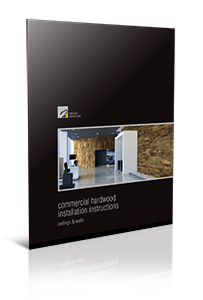 Ceilings & walls Instructions PDF
Click here to download.
Brochure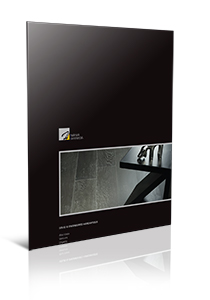 Organic Brochure PDF
Click here to download.

NuOil® Hybrid Multi-layer Oil Finish
*For Oak products only
NuOil® incorporates new hybrid technology, creating a highly durable, stain and fade resistant finish, all with a limited lifetime warranty. NuOil® is easier to maintain than traditional oils and does not require an immediate re-coat at time of install.
NuOil® – Simply Worry Free
The revolutionary oil system using hybrid technology making it:
• Highly Durable
• Easily Renewable
• Stain Free Resistant
One step better, one step less for a worry free floor.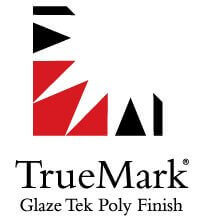 TRUEMARK GLAZE TEK POLY® FINISH
*For Maple & Hickory products only
The Novella Collection from Hallmark Hardwoods is finished with TrueMark GlazeTek Poly Finish for Maple and Hickory. Four coats of hand applied base and accent colors, combined with nine coats of finish achieve, a depth and richness unparalleled anywhere in the hardwood flooring industry. Nano technology is incorporated into the surface and fortified with aluminum oxide for a finish, so durable it is carries a limited lifetime warranty against wear through. GlazeTek, years of research and development have resulted in the first true high fashion, glazed furniture-finish to be applied to a hardwood floor.
TrueMark GlazeTek Poly Finish, fashion, function and beauty designed to protect your wood flooring investment for today and tomorrow.
TRUEMARK – Simply Enduring
Coated with our Nano Tough technology and hand touched glazing for
• Superior color depth
• Superior durability
Where durability and fashion meet for unparalleled performance and looks.

The Novella Collection from Hallmark Floors has our Truecore. A great engineered hardwood floor starts with a strong foundation. Hallmark Hardwoods uses only true hardwood veneers for the centerply in our hardwood flooring. The ply's are pressed at high pressure and heat. The process compresses the core veneers and makes the plank harder and more dimensionally stable.
TRUECORE – Simply Safer
Created with high pressure & heat resulting in
• Higher Stability
• Higher Density
• Higher Strength
For the highest achievable solution for your home-simply safer.

TrueSlice is a new progressive process developed for the sole purpose of greatly increasing one thing… "Stability". With a highly stable & thicker face cut TrueSlice greatly reduces the opportunity for checking in dry environments when compared to traditional processing methods. Simply ensuring a lifetime of memories on your investment.
TRUESLICE – Simply Steadfast
This new cutting edge veneer technology provides the
• Highest Possible Performance
• Solid hardwood visuals
• Maximum stability in all environments
For long lasting superior quality.
EUROPEAN TIMBER SOURCING
Hallmark Floors' Novella engineered hardwood flooring, uses premium PEFC French Oak Certified French Species. French White Oak has been the premium wood used in fine furniture and cabinets for centuries. Sourced from sustainable sources make these historic wood an ideal fit for your home.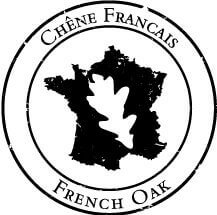 Hardwood Floor Molding (Trim)

Hardwood floor molding and trim information for Hallmark Hardwoods floors. If you have questions or would like to order our molding, email us or call.
Trim Options: Stair Nosing / T-Molding / Threshold / Reducer / Quarter Round:
Hallmark Floors manufactured trim Lengths are 82″
*All Hallmark Floors' moldings are engineered with the exception of Quarter Round.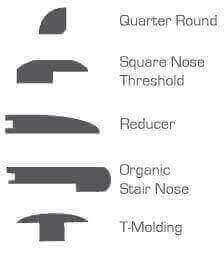 Molding Specifications
Download PDF Here
Simply Beautiful
Simply Better
Simply Hallmark