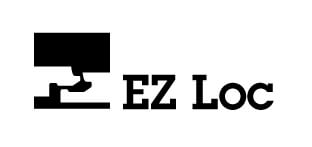 EZ LOC
Fully glue-less plank features a locking joint on both sides and ends for floating Rigid installations. EZ Loc is available in Courtier and Polaris.
Click here for Hallmark Floors – EZ Loc Installation.pdf

RIGID Vinyl Flooring is constructed with Purcore Rigid centercore.  Hallmark Floors' PurCore RIGID technology is a superior alternative to WPC, which is a patented hybrid composed of wood and plastic. PurCore RIGID contains zero wood fiber or mineral aggregate within the core, thus eliminating joint fatigue oftentimes found in WPC cores. The PurCore RIGID is injected with a proprietary hardening/stabilizing agent at the time of extrusion. This hardening/stabilizing process is more compatible with PVC, and therefore is more stable, with more durability in the locking mechanism and harder than composite PVC cores.
PURCORE – Simply Superior
Hallmark Surface Finish Technology is
• Higher Dimensional Stability
• Contains Zero Wood Fiber or Mineral Aggregate
• Durable Locking Mechanism

For the highest achievable solution for your home – simply stable.
Hallmark's proprietary formula of raw materials includes only the highest quality Pure virgin vinyl. PurCore is strictly monitored for consistency & quality in production, thus producing one of the most dimensionally stable vinyl cores in the Luxury Vinyl industry.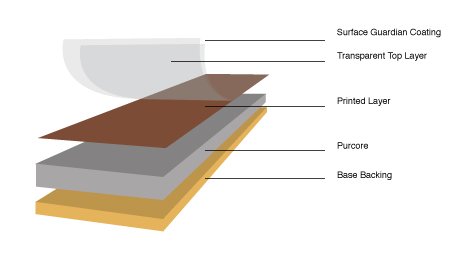 Base Backing – vinyl back layer equally balanced with the transparent top layer & film adding to a dimensionally stable product
PurCore Layer – highest quality virgin vinyl producing one of the most dimensionally stable luxury vinyl cores in the industry
Printed Layer – vinyl film representing the tile or hardwood decor
Transparent Top Layer – layer of transparent vinyl for protection of the printed film during the pressing process in addition to increased durability for everyday living
Surface Guardian Coating – UV coating containing ceramic additives for superior durability. Surface Guardian Pro has the addition of Nanocontrol for antibacterial properties.
LVT Specifications for Hallmark Luxury Vinyl Floors.
Hallmark Floors' Luxury Vinyl flooring is both fashionable and family friendly. With a wide variety of colors and styles to choose from, Hallmark Luxury Vinyl is the perfect choice for homes and commercial properties and businesses.
Click here for the product information for Hallmark's LVT Specification PDF's
Hallmark Luxury Vinyl Floors
Simply Beautiful
Simply Better
Simply Hallmark