Healthy Homes | Hallmark Floors

First rule to maintaining a healthy home is the indoor air quality.
No need to stress or worry about the your indoor air quality with Hallmark Floors.
We are beyond TSCA Title VI Compliant.
View Hallmark's complete guide to a healthy home: Hallmark Healthy Home – Indoor Climate Control
FACT:
• Normal indoor air ratings for formaldehyde are 0.03 to 0.06ppm.
FACT:
• Independent third party testing established that Hallmark Floors is .01 – .04 PPM, which surpasses Carb II requirements.
Learn more about our TSCA Title VI Compliant Certification Standards (CARB II specifications)
Hallmark Floors surpasses compliance limits in its newest test results just released by Berkeley Analytical, an independent third party testing facility that performs regular emission tests on Hallmark Floors products.  The emission standard for formaldehyde changed from a range of .05 to .05 ppm (parts per million) in 2015 to a range of "LQ" (quantities too low to detect) to .013 ppm in 2016.
What does this mean for consumers who purchase and install Hallmark Floors?  It means that the levels of formaldehyde emissions in the latest test results are so low that not only were the quantities far less than the US AND International standards, they were too low to even detect.
Hallmark Floors takes great pride in producing quality, sustainable, stylish products that are environmentally responsible;  protecting your home, family and pets; providing peace of mind.
Hallmark Floors as compared to US and International Emission standards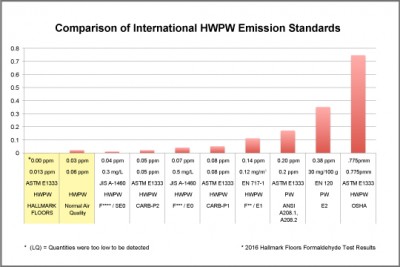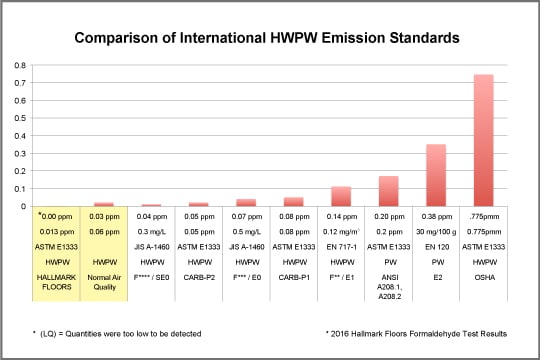 *New 2017 updated CARB II certification for Hallmark Floors
Our newest independent third party standards show that Hallmark Floors is way below the standard requirements.
1a. Certificate March, 2017 .pdf
2a. Certificate March, 2017 .pdf
Save