Polaris Commercial Premium Vinyl Plank Flooring Collection
Polaris Commercial Premium Vinyl Plank
Simply Remarkable

Intricate layers of color, depth and realistic sawn cut visuals provide Polaris Premium Vinyl Flooring with an authentic wood look. This modern collection was designed using high-definition printing in order to create a genuine wood texture. Meanwhile, Polaris is FloorScore Certified, 100% pure virgin vinyl, waterproof, durable and family friendly. The quality and design of this premium vinyl plank make it perfect for both commercial and residential spaces.
Polaris premium vinyl plank flooring is waterproof vinyl that looks like wood floors.
Benefits

CLARITY, DURABILITY & FASHION:
Surface Guardian Finish – 12 mil wear layer
Waterproof & Lifetime Residential Warranty
High-definition Printing, Wood Textures & Sawn-cut Visuals
STABILITY, DENSITY & COMFORT:
PROACTIVE, HEALTHY & CERTIFIED: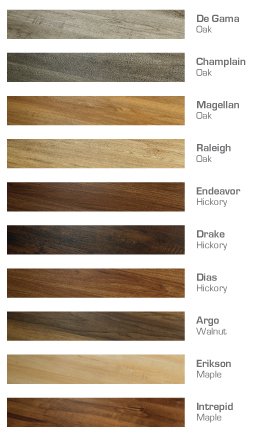 SPECIFICATIONS
| | |
| --- | --- |
| Collection: | Polaris Premium Vinyl Plank | 10 Colors |
| Dimensions: | |
| Wear layer Thickness: | 12mil |
| Edge: | Microbevel |
| Surface Texture: | Various |
| Coatings: | Surface Guardian UV Coating |
| Package: | Cartons Per Pallet 78 – Planks Per Box 10 – Sq. Ft. Per Carton 19.2 |
| Weight: | |
| Commercial Warranty: | 10 year Structural + 5 year commercial Finish |
| Commercial Moderate: | EN 31 – Bedrooms, Hotels, Conference Rooms Small Offices |
| Commercial General: | EN 32 – Classrooms, Small Offices, Hotels Boutiques |
| Cleaning Methods: | Hallmark TrueClean floor cleaner |
| ASTM F137 – Flexibility: | Pass |
| ASTM F386 – Thickness Standard | Pass |
| ASTM F925 5 – Resistance to Chemicals (5 minute standard): | Pass |
| ASTM F925 – Resistance to Chemicals (24 hour standard): | Pass |
| ASTM F1514 – Heat Stability by Color Change: | Pass |
| ASTM F1515 – Light Stability by Color Change: | Pass |
| ASTM F1914 – Short Term Indentation: | Pass |
| ASTM F2199 – Dimensional Stability after exposure to heat: | Pass |
| Fire Resistance (ASTM E648): | Class C – Pass |
| Coefficient of Friction (ASTM D-2047-04): | Pass |
| Smoke Density (ASTM E662-09): | Pass |
| Static Load (ASTM F970-07): | Pass |
| Wear Resistance High ASTM: F510-93 |  Pass |
SAMPLE REQUESTS


ATTENTION!: Polaris Commercial Premium Vinyl Plank flooring subjected to excessive heat and light exposure is subject to expansion and contraction (thermal degradation). Use appropriate precautions to minimize potential affects on your luxury vinyl floor.
Installation Instructions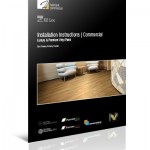 Installation Instructions
Click here to download.
Maintenance & Warranty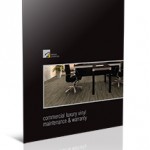 Maintenance & Warranty
Click here to download.
Specification Sheet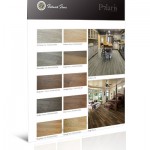 Specification & Color Chart
Click here to download.
 Vinyl Brochure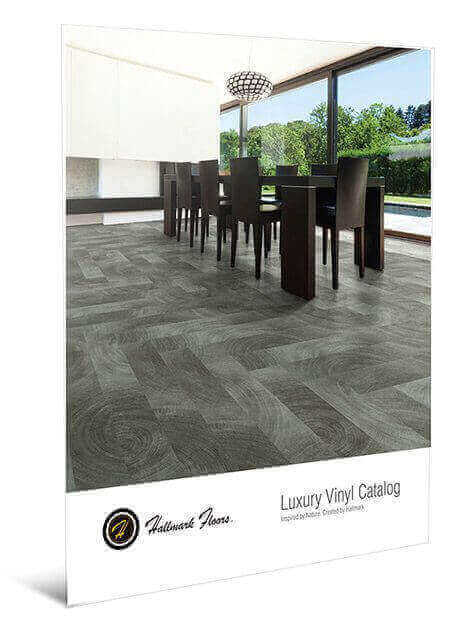 Courtier Brochure PDF
Click here to download.

Consists of a 12mil wear layer topped with a UV coating containing ceramic additives for superior durability. Rated for residential and light commercial use.
SURFACE GUARDIAN Simply Cleaner
UV Ceramic Coating containing Nanocontrol for
• Superior clarity
• Superior durability
Where durability and fashion meet for superior performance and beauty.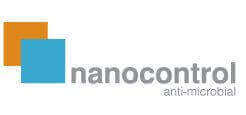 Nanocontrol Anti-Microbial contains Propriety technology to deter the growth of microorganisms that come in contact with the surface of the Hallmark Luxury Vinyl floors. An Anti-Microbial Agent is bonded with other elements in the finish to create a barrier that impedes the growth of microorganisms/bacteria. Once the microorganisms come in contact with the surface of Nanocontrol Antimicrobial®, the formulation inhibits further growth of microorganisms.
NANOCONTROL ANTIMICROBIAL® –
Simply Healthier
Hallmark Surface Finish Technology is
• Anti-microbial/Anti-bacterial
• Kills Micro Organisms
• Protective Shield
For a healthier indoor environment for homes and businesses.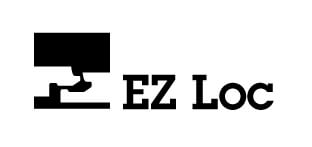 EZ LOC INSTALLATION SYSTEM
Fully glueless plank features a locking joint on both sides and ends, for floating Polaris Commercial Premium Vinyl Plank installations. EZ Loc is available in Polaris Premium Vinyl Planks. Polaris Premium Vinyl Flooring is rated for both residential and commercial use.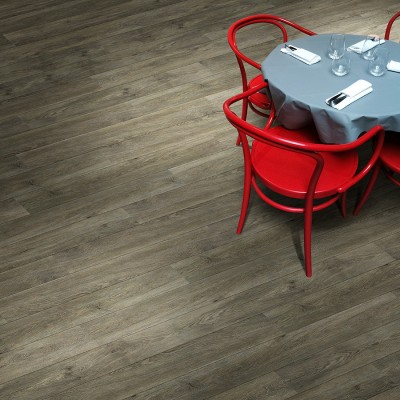 Hallmark Floors' PurCore RIGID technology is a superior alternative to WPC, which is a patented hybrid composed of wood and plastic. PurCore RIGID contains zero wood fiber or mineral aggregate within the core, thus eliminating joint fatigue often found in WPC cores. The PurCore RIGID is injected with a proprietary hardening/stabilizing agent at the time of extrusion. This hardening/stabilizing process is more compatible with PVC, and therefore is more stable, with more durability in the locking mechanism and harder than composite PVC cores.
PURCORE – Simply Superior
Hallmark Surface Finish Technology is
• Higher Dimensional Stability
• Contains Zero Wood Fiber or Mineral Aggregate
• Durable Locking Mechanism

For the highest achievable solution for your home – simply stable.
PVP Construction

Base Backing – vinyl back layer equally balanced with the transparent top layer & film adding to a structurally stable product
PurCore Layer – more stable, with durable locking mechanism, harder than composite PVC cores
Printed Layer – vinyl film representing the tile or hardwood decor
Transparent Top Layer – layer of transparent vinyl for protection of the printed film during the pressing process in addition to increased durability for everyday living
Surface Guardian Coating – UV coating containing ceramic additives for superior durability. Surface Guardian Pro has the addition of Nanocontrol for antibacterial properties.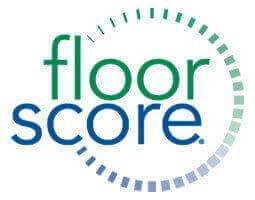 Developed by the Resilient Floor Covering Institute (RFCI) together with Scientific Certification Systems (SCS) to test & certify flooring products for compliance with indoor air quality emission requirements adopted in California.
Contributing to a Leed Eq Credit 4.3 (1 pt) – low emitting material promoting healthy indoor air quality.
MR Credit 4 (1 pt) – 25% recycled content.
FLOORSCORE –
Simply Cleaner Air
FloorScore Certified for
• Healthy Indoor Air Quality
• Zero VOC
• Formaldehyde Free
A floor that will provide a healthier living atmosphere for you and your family to enjoy for years to come.
Vinyl Molding
The moldings are designed to blend with Polaris Commercial Premium Vinyl Plank Flooring. The same decor vinyl & wear layer that is used for the flooring is used for the moldings.
Multipurpose Reducer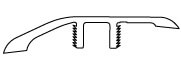 Reducer is 72″ long and transitions flooring of different heights, for example, carpet to vinyl.
T-Molding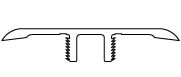 T-Molding is 72″ long and transitions different types of flooring of the same height, for example, vinyl to vinyl.
Overlap Stair Nosing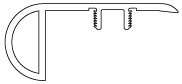 Stair Nose is 94″ long. Any existing tread bullnose must be cut off
Quarter Round
Quarter Round is 94″ long and finishes the perimeter of the floor. NOTE: Special order. Full box only 10 pieces/box.
Installation method
Snap Trak
Position track 3/16″ away from vinyl floor
Firmly attack Snap Trak to sub floor using screws
Scre track to sub floor
Snap molding onto track
Trak is scribed so it can be snapped to the length required
Polaris Commercial Premium Vinyl Plank


Save
Save