CARB II | Hallmark Floors
Breathe easy with Hallmark Floors
Hallmark Exceeds CARB II Certification Standards
FAQ ABOUT HALLMARK FLOORS and CARB II
Is Hallmark CARB II compliant for formaldehyde emissions?
Hallmark Floors takes pride in the fact that from our inception, indoor air quality has been a very high priority. Our manufacturing process is closely monitored and third party certified. We pride ourselves as being a cutting edge company when it comes to having obtained world class, low-formaldehyde emissions. In fact, Hallmark has been producing product that met the CARB II standards in 2008, a year prior to the CARB I standard and three years prior to the CARB II standards being developed and implemented.
OSHA – the US Occupational Safety and Health Administration guidelines allowed for more emissions than were permitted in Europe and Japan. Hallmark felt the most responsible thing to do for our customers was to emulate the more stringent international standards, E-0.
On January 1, 2009 the State of California (California Air Resource Board) implemented the CARB I standard of 0.08ppm (parts per million emission) for engineered hardwood flooring and hardwood plywood.
On January 1, 2011 CARB II was fully implemented at a maximum emission rate of 0.05ppm, which is lower than the International Standard E-0. CARB II is 15.5 times lower than the federal guidelines as determined by OSHA (0.775). CARB II is much closer to the rate of normal air quality ranging from 0.03ppm to 0.08ppm. Formaldehyde at these levels is naturally occurring, with higher levels typically in urban areas. To be completely Formaldehyde free is impossible given that plant matter naturally contains these trace amounts. The real point of CARB II is to ensure that engineered wood products are not pushing levels past the acceptable standards of nature.
Independent Third Party Certified.

Hallmark Complies with CARB II Certification Standards.
1a. Certificate March, 2017 .pdf
2a. Certificate March, 2017 .pdf
Exceeding Certification Standards Since 2008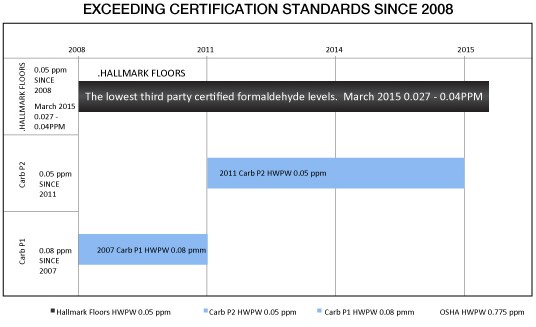 FAQ ON CARB II
Comparison of International HWPW Emissions Standards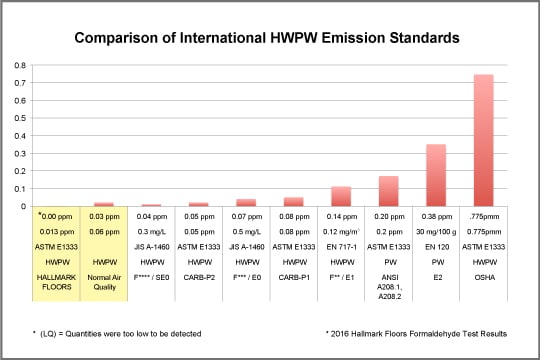 Definitions:
Standards
CARB-P1: California Air Resources Board Phase 1 emission standard (Allow
sell-through date for PB & MDF is unitil Dec 31, 2011)
CARB-P2: California Air Resources Board Phase 2 emission standard
(Enforcement date for PB & MDF is Jan 01, 2012)
ANSI A208.1 & 2: North America voluntary standards ANSI A208.1-
2009 Particleboard & ANSI A208.2-2009 MDF (include most of
industrial particle boards and MDF)
E2: European E2 emission standard (Most import products from Asia
are E2 or worse)
E1: European E1 emission standard
E0: European E0 emission standard
SE0: European Super E0 emission standard
F**: Japanese F-Star2 emission standard
F***: Japanese F-Star3 emission standard
F****: Japanese F-Star4 emission standard
JIS: Japanese Industrial Standard
Products
HWPW: – Hardwood / Plywood
PW: – Industrial plywood
PB: – Particleboard
MDF: – Medium density fiberboard
ppm: – Parts per million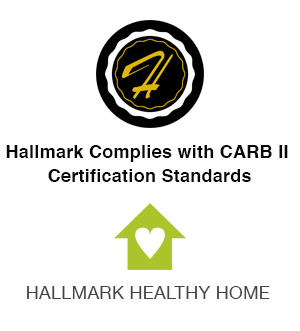 Sustainability | Hallmark Floors