Integrating Hallmark Floors' TrueSlice technology produces a stunning solid visual one would expect of the world's finest furniture. This blend of fashion and technology enables Hallmark Floors to provide something fresh in contrast to the rotary cut products currently offered in the marketplace.
TrueSlice Technology
TrueMark Glaze Tek Poly Finish
Truecore Centerply
Width 4″, 6″, 8″
Random lengths up to 6'2″
Available in Maple and Hickory
8 beautiful contemporary/modern colors
Contact your Hallmark Floors distributor today for more information and to order this NEW game-changing collection by Hallmark Floors.
Monterey 4,6,8 hardwood flooring is now available.
Order yours now!

Quick Specifications and Color Chart for Monterey Hardwood Collection. Click Here.
Simply Better… Discover Why.
888.551.0888
What is TrueMark Glaze Tek Poly Finish?
TRUEMARK GLAZE TEK POLY FINISH
The Monterey Collection from Hallmark Hardwoods is finished with TrueMark GlazeTek Poly Finish. Four coats of hand applied base and accent colors, combined with nine coats of finish achieve, a depth and richness unparalleled anywhere in the hardwood flooring industry. Nano technology is incorporated into the surface and fortified with aluminum oxide for a finish,
so durable it is carries a limited lifetime warranty against wear through. Glaze Tek, years of research and development have resulted in the first true high fashion, glazed furniture-finish to be applied to a hardwood floor.
TrueMark GlazeTek Poly Finish, fashion, function and beauty designed to protect your wood flooring investment for today and tomorrow.
TRUEMARK – Simply Enduring
Coated with our Nano Tough technology and hand touched glazing for
• Superior color depth
• Superior durability
Where durability and fashion meet for unparalleled performance and looks.
What is Truecore Centerply?

T
he Monterey Collection from Hallmark Hardwoods has our Truecore.
A great engineered hardwood
floor starts with a strong foundation. Hallmark Hardwoods uses only true hardwood veneers for
the centerply in our hardwood flooring. The ply's are pressed at high pressure and heat. The
process compresses the core veneers and makes the plank harder and more dimensionally stable.[/threecol_two]
TRUECORE – Simply Safer
Created with high pressure & heat resulting in
• Higher Stability
• Higher Density
• Higher Strength
For the highest achievable solution for your home-simply safer.
What is TrueSlice?

True Slice is a new progressive process developed for the sole purpose of greatly increasing one thing… "Stability".
With a highly stable & thicker face cut TrueSlice greatly reduces the opportunity for checking in dry environments when compared to traditional processing methods. Simply ensuring a lifetime of memories on your investment.
TRUESLICE – Simply Steadfast
This new cutting edge veneer technology provides the
• Highest Possible Performance
• Solid hardwood visuals
• Maximum stability in all environments

For long lasting superior quality.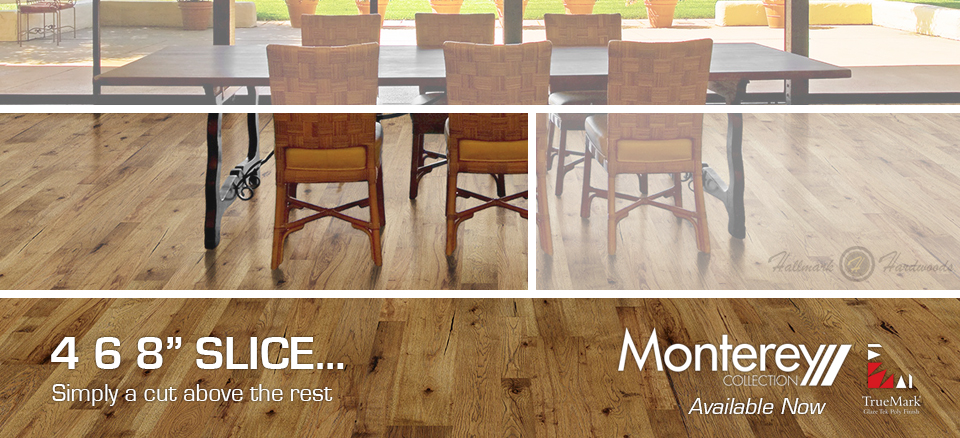 Monterey hardwood flooring is now available for purchase. Monterey is the new 4,6,8 collection from Hallmark Hardwoods by Hallmark Floors.
Hallmark supports our retail partners.
Contributor(s): Sylvia Bulanek at Hallmark Floors
Date: Sept. 3, 2014