PRODUCT REGISTRATION
FREE Hallmark floor cleaner with your registration!
To receive a FREE bottle of Hallmark's floor cleaner all you have to do is register your Hallmark Floors product by filling out the form below. Once you register your floors you will be sent a confirmation email thanking you for your purchase and there will be a link in the email from us that you need to click on for confirmation. Once you confirm it, you will be sent a bottle of cleaner.
Steps to receive a free bottle of cleaner:
1. Fill out the form.
2. Look for your confirmation thank you email.
3.

Click on the confirmation link

to confirm your request.
Once we confirm your product purchase, we will send you a FREE bottle of cleaner in the mail. Please allow for up to ten working days to receive your free cleaner from Hallmark Floors. If you don't receive it in 10 days, please email us or call.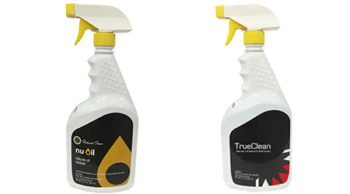 Our maintenance products. Nu Oil® floor cleaner is for Nu Oil finished floors and TrueClean floor cleaner is for TrueMark finished hardwood, rigid vinyl & LVT floors.
Thank you for purchasing Hallmark Floors!
Product Registration Form for Hallmark Floors wood and luxury vinyl flooring products.
* If you do not receive your bottle of cleaner after two weeks, please email us or call
* Limit one per customer
Our cleaners are available to purchase through your
local dealer or on Amazon.
Please make sure to read the maintenance and warranty guide,
before cleaning your floors for the first time.