THINGS TO CONSIDER
WHEN CHOOSING A FLOOR
How to choose a floor can be a challenge. Flooring is one of the most important elements when creating a specific style in your home. The right floor is both beautiful and comforting. The appearance, feel, color and maintenance you prefer should be the main focus in considering your choice of flooring.
THE FLOOR AND THE ROOM
Floor – walls – ceiling: the three fundamental elements that together create the room's feel. The interaction between these three surfaces can change the overall impression, depending on the choice of colors, patterns, lighting, etc. The floor creates the room's base, weight, and character, and it is also the basis for the other elements, including the choice of furniture and other decors. The floor is where fashion and style meet function.
THE FLOOR IS THE FOUNDATION
A floor is so much more than just something to walk on. The floor, with the walls and ceiling, contributes the room's fundamental feel. When designing your home, you should perhaps consider the floor first. The floor is the foundation– although you can always repaint walls and ceiling, the floor is of a permanent nature. The appearance of the floor, i.e. the color, surface, pattern, and hardness, can vary a lot between different flooring materials.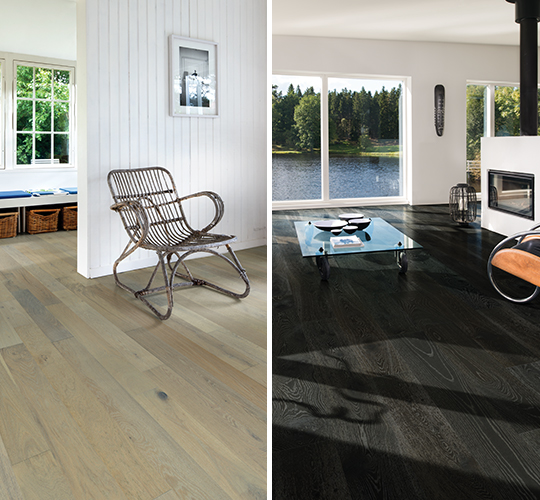 WHAT COLOR SHOULD I CHOOSE?
Light, dark or natural? The color of the floor has a strong impact on how the room is perceived. A dark floor "swallows" a lot of light, but it also creates a sense of warmth and coziness. A light floor reflects the light and adds space to the room.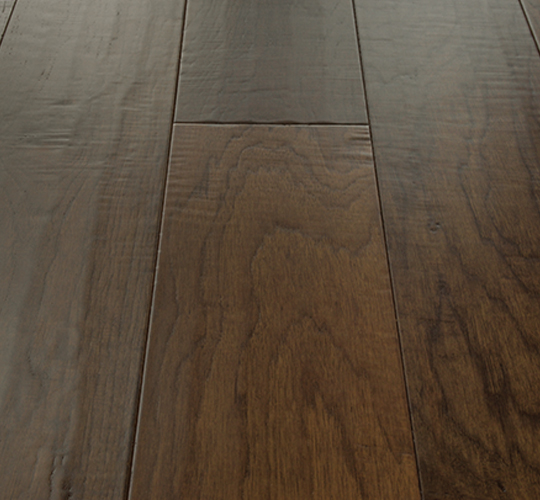 WHAT FLOOR IS RIGHT FOR MY LIFE?
Where are you planning to install the floor – and how much wear and tear will it be exposed to? A polyurethane surface makes the floor easier to clean. Oil, meanwhile, brings out the fine structure and grain of the wood and enhances its natural color. The hardness of the wood and the possibility to re-sand the floor should also be considered.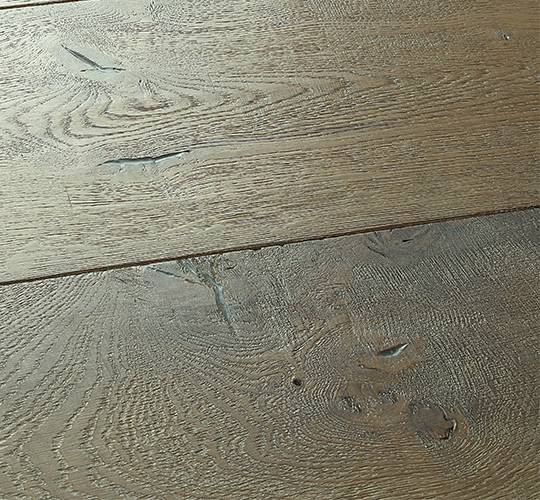 POLYURETHANE OR NUOIL FINISHED FLOORS?
In general, a lacquered surface reflects the light more than an oiled floor. An exception to this rule is wood treated with our Glaze Tek finish natural low sheen finish– which makes the flooring feel and look like untreated, newly sawn timber. Our Glaze Tek Polyurethane Finishes are UV cured instantly by using ultraviolet light.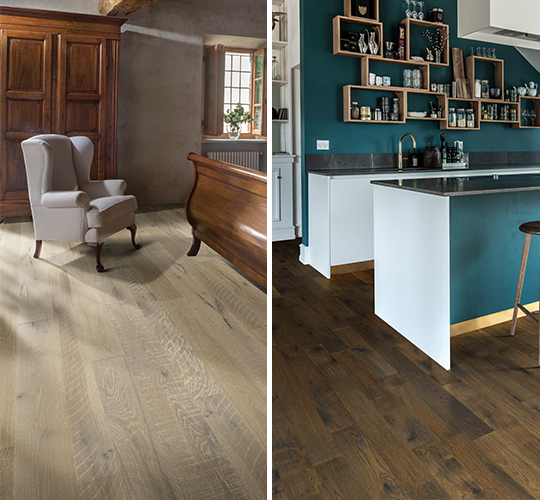 WHAT FLOOR DESIGN SHOULD I CHOOSE?
Smooth, precise and elegant – or rustic, rich in patina, knots, and texture? Hallmark Floors offers a selection of different flooring options. Each unique product provides different characteristics and meets different needs. The grading in wood floors depends on which part of the log was used when producing the individual boards. With vinyl floors, there is predictability in appearance and style. We also use many types of surface treatments to create a wide diversity of styles.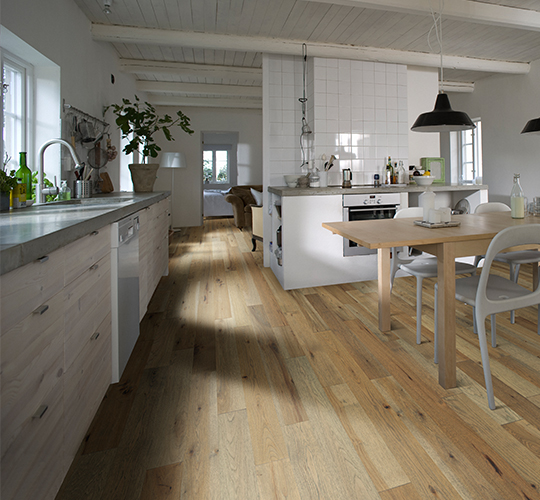 DOES NATURAL LIGHT AFFECT THE CHOICE OF FLOOR?

Lighting is essential, and it will affect both the color and appearance of the room. Light floors coupled with light walls will enhance the sense of space, while dark floors will provide balance. Dark flooring combined with dark walls encloses the room – but can bring comfort and warmth. Another feature to consider is installation