Vinyl Molding Trim Accessories
The moldings are designed to blend with the vinyl flooring. The same decor vinyl & wear layer that is used for the flooring is used for the moldings. Click here for specifications.

Multipurpose Reducer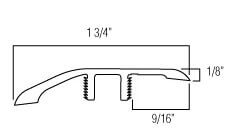 Reducer is 72″ long and transitions flooring of different heights, for example, carpet to vinyl.

T-Molding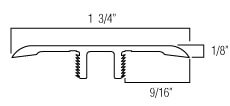 T-Molding is 72″ long and transitions different types of flooring of the same height, for example, vinyl to vinyl.
Overlap Stair Nosing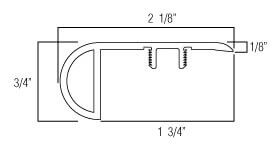 Stair Nose is 94″ long. Any existing tread bullnose must be cut off
Quarter Round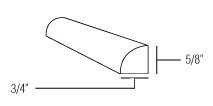 Quarter Round is 94″ long and finishes the perimeter of the floor. NOTE: Special order. Full box only 10 pieces/box.
Installation method
Snap Trak
Position track 3/16″ away from vinyl floor
Firmly attack Snap Trak to sub floor using screws
Scre track to sub floor
Snap molding onto track
Trak is scribed so it can be snapped to the length required